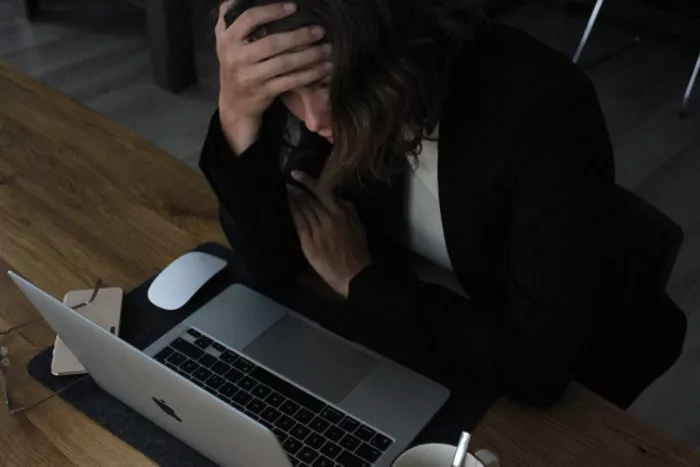 - Originally Published on September 13, 2022
What to Do If Someone is Blackmailing You With Nude Photos Online
Table Of Contents
Need Help? Connect With Us
All Minc Law exploratory calls are confidential, free of charge, and without obligation.
This page has been peer-reviewed, fact-checked, and edited by multiple qualified attorneys and legal professionals to ensure substantive accuracy and coverage. Our publication process is robust, following a 16-step content creation and review process.
No one wants to believe that they will be blackmailed with nude photos. But whether your cloud was hacked, an ex-partner is threatening to release photos you sent them, or a stranger is claiming to have nude images of you, there are several ways you could become a victim of online blackmail.
If someone is blackmailing you with nude photos and threatening to release them, we recommend taking the following actions:
Preserve all evidence and communications with the blackmailer;
Enlist support from a trusted person;
Adjust your online privacy settings and set up alerts to monitor your online presence;
Do not attempt to negotiate or pay the ransom;
Talk to an experienced internet or blackmail attorney; and
Report the blackmail to law enforcement.
Being harassed by online blackmailers can be an isolating and terrifying experience. At Minc Law, our experienced legal team can offer objective advice, help you respond to the blackmailer, and create an effective response and monitoring strategy. We have extensive experience identifying anonymous extortionists, removing leaked content, and putting an end to harassment as quickly and discreetly as possible.
In this article, we explain what blackmail is and how you can respond to it effectively. We also provide several resources for reporting a blackmail attempt and reaching out for support—because you do not have to face this experience alone.
Being blackmailed online?
Don't suffer in silence. We'll fight for the closure you deserve. Take back control today.
Contact Minc Law
What is Online Blackmail & is It Unlawful?
This section defines online blackmail, what it commonly looks like, and how various federal and state statutes deal with blackmail and extortion.
Definition of Online Blackmail
A perpetrator commits blackmail by threatening to release damaging information about their victim unless the victim meets their demands. Usually, a blackmailer will demand money—but in some cases, they may ask for other favors to gain power over their victim.
It is important to understand that the crime of blackmail happens when a threat is made. If someone is blackmailing you, they have already committed a crime, even if you have not yet paid them.
How is Internet Blackmail Different From Online Extortion?
The terms "blackmail" and "extortion" are often used interchangeably—and in some jurisdictions, blackmail is considered a type of extortion.
Generally, extortion is the crime of coercing a victim to take an action through threats. These threats might involve physical injury or damage to the victim's reputation. Blackmail specifically refers to the type of extortion that involves revealing damaging personal information.
Common Scenarios That Can Lead to You Being Blackmailed With Nudes
When a perpetrator obtains nude photos of their victim, one of the most common threats they make is to publish the images online or share them with other people if the victim does not meet their demands. This scenario is referred to as revenge porn, and it is often perpetrated by former romantic partners with a grudge.
Another common scenario is sextortion, which is usually perpetrated by a stranger who tricks you into sharing nude images or videos. The sextortionist then saves the explicit media and threatens to share it with your friends and family unless you pay a ransom.
Other perpetrators send phishing scams via email. They claim to have hacked your device and stolen nude photos—and if you do not pay a ransom, the hacker will send the images to all of your contacts. Usually, the scammer has not actually hacked your device; they are just trying to scare you into paying them money.
Watch this informative video to learn how to protect yourself from sextortion. Discover valuable tips and strategies to safeguard your personal information and respond to online blackmail.
Watch
The Legality of Blackmail Committed on the Internet
The crime of blackmail takes place the moment the perpetrator makes a threat against you. Blackmail is a federal offense that is punishable by a fine or up to one year in prison.
State laws regarding blackmail vary—and they even refer to the crime under different names. Often, both extortion and blackmail are classified as theft or larceny. In most states, blackmail and extortion are considered felonies and are punishable by imprisonment. Some states punish blackmail involving bodily harm more severely than blackmail that involves reputational harm.
Below are a few examples of how different states punish extortionists and blackmailers:
Ohio: Extortion is a third-degree felony punishable by 1 to 5 years in prison and/or a fine up to $10,000.
New York: Larceny by extortion sentences depend on the property's value and whether violence has taken place. Blackmail is a class "E" felony at a minimum, with a potential sentence of up to 4 years.
Texas: Extortion falls under theft and penalties vary based on the property's value and other factors. An extortion conviction may lead to fines, jail time, or both.
For a comprehensive list of all state-specific blackmail and extortion statutes, we recommend reading the section 'What is the definition of blackmail' in our comprehensive blackmail guide.
Steps to Take Once You Realize You Are Being Blackmailed With Nude Photos
After receiving a blackmail message, it can be difficult to know what to do or where to turn. In this section, we lay out an action plan for victims of blackmail.
What Are the First Steps You Must Take if You Are Being Blackmailed With Nude Photos?
If someone is threatening to release nude photos of you unless you pay them, you should follow these steps right away:
Preserve all communications and evidence of the blackmail;
Ask a trusted person to document the evidence;
Maximize your online privacy settings;
Set up online alerts;
Talk to an experienced internet blackmail attorney; and
Contact your local police.
Preserve All Communications & Evidence
It is tempting to delete all records of communication with a scammer, especially if some of the evidence is embarrassing. However, proof of your communication can help law enforcement or an attorney to help rectify the situation.
Take screenshots of all messages you have received from the blackmailer, along with their social media profile and any other relevant evidence. You can use the screenshot features on your phone, Apple computer (Shift+CMD+3), or Windows desktop (CTRL+PrtScn) to save screenshots for free—or you can use tools like Visualping and Page Vault.
Ask a Trusted Person to Document the Evidence
Enlist the help of a friend or family member that you trust to make a backup file of the evidence you are collecting. If caught, some blackmailers may try to claim that you tampered with evidence of your conversations, which is why it is helpful to have a second person make copies of the evidence.
Maximize Your Online Privacy Settings
We recommend that everyone make their social media profiles as private as they feel comfortable—but this recommendation is especially important for victims of blackmail. Most social media and dating sites let you set your profile to private. While you are being harassed by scammers, you should maximize your privacy settings on all of your online accounts.
We also recommend blocking the perpetrator on all of your accounts as well—but not before you take screenshots of your communications with them.
Set Up Online Alerts
Creating a Google Alert is a great way to monitor the internet for posts that mention your name (or another keyword of your choice). This way, you can be notified if the blackmailer decides to publish compromising material about you online.
Talk to an Experienced Internet Blackmail Attorney
An experienced internet attorney can offer objective advice about your legal options and take over the burden of communicating with the blackmailer. Internet law is a highly nuanced field, and an ally who understands the best way to prevent the publication of sensitive content can be invaluable.
Contact Local Police
Finally, reach out to your local police to make a report of the crime. If the blackmailer is in your area, your local law enforcement may be able to apprehend them. And if the crime is taking place internationally, your local police can make a report to agencies like the FBI and INTERPOL.
What Should You Avoid Doing If Someone Blackmails You With Nude Photos?
Receiving a blackmail message can understandably cause alarm and panic—but some of your natural inclinations may be the exact opposite of what you should do. Below, we list a few actions you should NOT take if you are being blackmailed with nude photos.
Do Not Engage With the Blackmailer
It may feel counterintuitive, but you should not respond to or engage with a blackmailer. The more you respond to them, the more they will assume that you are easy to manipulate. They may become emboldened to continue harassing you.
Do Not Try to Negotiate or Pay the Ransom
Just as engaging with the blackmailer can backfire, so can an attempt to negotiate. Do not assume that paying the ransom will make the blackmailer go away, either—there is nothing to stop them from making more demands once you pay them.
Do Not Try to Get Ahead of the Blackmail
If you are worried about a blackmailer releasing sensitive information to your friends and family, it may seem like a good idea to "get ahead of the story." However, many blackmailers never follow through on their threats—so telling your social circle about the situation may be unnecessary in the long run.
Don't suffer in silence.
With a team of experienced attorneys, we will fight for the closure you deserve. Take back control today.
Contact Minc Law
Video: What Are the Chances a Sextortionist Releases My Intimate Images & Videos?
Watch
How Do You Deal With the Emotional Trauma of Being Blackmailed With Nude Photos?
When a blackmailer threatens to release nude photos of you unless you meet their demands, the psychological effects can be similar to being physically and emotionally abused. Victims of blackmail can experience shame, fear, and even symptoms of depression and anxiety.
The best way to deal with the emotional trauma of being blackmailed with nude photos is to reach out to trusted allies who can help. Beyond reporting the incident to law enforcement and hiring an experienced internet attorney to resolve the situation, you may also want to reach out to professionals that specialize in providing support and resources to victims, such as:
| | | |
| --- | --- | --- |
| Cybersmile | https://www.cybersmile.org/ | The Cybersmile Foundation is a multi-award-winning nonprofit organization committed to digital well-being and tackling all forms of bullying and abuse online. We work to promote kindness, diversity, and inclusion by building a safer, more positive digital community. |
| Thorn | https://www.thorn.org/ | We build technology to defend children from sexual abuse. |
| Without My Consent | https://withoutmyconsent.org/ | Without My Consent empowers victims of egregious online privacy violations to lead the fight against online harassment. We document the law as it is. We identify obstacles to justice. We train lawyers, law enforcement, and advocates. We engage in solutions-oriented work with industry and government. We stand for free speech, privacy, due process, and equality in a digital world. WMC makes educational materials on these topics available through this website, free of charge. Though the materials provided here are broader in scope, much of our work currently centers on the nonconsensual distribution of sexually explicit images. |
| Cyber Civil Rights Initiative | https://www.cybercivilrights.org/ | CCRI's Mission is to combat online abuses that threaten civil rights and civil liberties. CCRI's Vision is of a world in which law, policy, and technology align to ensure the protection of civil rights and civil liberties for all. |
Attorney General's Cyber Exploitation Task Force
Thinkuknow
Samaritans
Crash Override
HeartMob
Revenge Porn Helpline
PAPYRUS
Get Safe Online
If you are having thoughts of self-harm, you can dial the Suicide and Crisis Hotline at 988 to speak with a supportive professional at any time of the day or night.
For further reading, we recommend our comprehensive resource explaining 'How to deal with blackmail'.
How to Report Someone For Blackmailing You With Nude Photos
This section explores a few ways to report a blackmailer, including making reports with various law enforcement agencies.
What Do You Need to Report Someone for Blackmailing You With Nude Photos?
As with any extortion scheme, it is crucial to document all communication you have had with the perpetrator—especially the actual threat of blackmail. Take screenshots of any information that may be relevant, including direct URLs to the content and the perpetrator's social media profiles.
What Authorities Should You Speak to if Someone Is Blackmailing You With Nude Photos?
If someone is threatening to release nude photos of you, it is essential to act quickly. We recommend starting by making a report to your local law enforcement and reaching out to an experienced internet attorney.
Contact Your Local Law Enforcement
After gathering as much documentation as you can, report the blackmail attempt to your local law police. These agencies have the resources to potentially uncover the identity of the perpetrator—and charge them with a crime.
Speak With a Law Firm That Knows How Sexual Extortionists Operate
We recommend reaching out to an experienced internet attorney as soon as possible. They can give you objective advice and direct you to the proper law enforcement agencies where you should make your report.
An attorney can also help you gather the evidence needed to prosecute, or if law enforcement is unwilling or unable to get involved, file a civil claim against the blackmailer.
Video: Minc Law's Blackmail Services Explained
Watch
File a Complaint With the FBI's Internet Crime Complaint Center (IC3)
The FBI's Internet Crime Complaint Center (IC3) tracks suspected online criminal activity, which makes the agency a good place to report any online fraud—including blackmail. After receiving a report, the IC3 forwards the information to the relevant authorities, whether they are local, state, federal, or even international.
Further Authorities & Resources to Report Blackmail
You may also want to report the blackmailer to your local FBI field office. If the crime is of international proportions, you can reach out to the International Criminal Police Organization (INTERPOL).
If the blackmail victim is a minor (or was underage at the time the nude photos were taken), the legal consequences for the blackmailer can be even harsher. You can report any form of child pornography to the National Center for Missing and Exploited Children and CyberTipline.org.
How Do You Know If A Blackmailer Really Has Your Nudes?
Some cases of blackmail can be clear-cut, such as when a current or ex-partner threatens to publish nude photos that you gave them consensually. But there are also cases in which online scam artists claim to have filmed you or taken screenshots of your explicit images. In these cases, how do you know if what they are saying is true?
For instance, in one common email sextortion scam, the perpetrator obtains a large number of emails through data breaches. They send the same email message to the entire email list, claiming that they hacked the recipient's camera and recorded them while they were performing intimate acts. The scam email threatens to post the recorded content online unless the recipient sends a payment right away.
It is easy to panic if you receive an email like this. But if the scammer is not able to send you proof that they have nude images of you, it is possible that they are just trying to scare you into paying them.
In general, it is more plausible that a blackmailer really has your nude images if they are a person you know in real life. However, it is possible for strangers to hack your cloud storage. If a scammer sends you an image that you know you took but never sent to anyone, then it is possible your account was hacked.
Strategies to Help Protect You Against Online Blackmail
This section provides tips and resources for protecting yourself against online blackmail, whether you are worried about a potential threat or if private content about you has already been leaked online.
What Safeguards Can Be Used Against Digital Extortion?
Blackmail is a real threat—and it can affect anyone. We recommend keeping these tips in mind when engaging in any online activity:
Be Cautious About What You Share Online
First, take extreme care about what you share with online contacts, and teach your children to do the same. We do not recommend ever sharing intimate photos or confidential information about yourself online, especially with individuals you do not know in real life.
And it is not just explicit content that you should watch out for. Identity thieves and scammers can often find answers to common security questions—like your educational history, mother's maiden name, and job history—just by scrolling through your public social media posts. Stay mindful of what you post on social media, and how it can be used against you.
Understand the Dangers of Sexting
While it is safest to avoid sending any intimate or compromising material online, that advice is not always practical. It has become the new norm to hold intimate conversations with potential partners on dating apps and social media.
If you do choose to engage in sexting or other sexual behavior online, keep in mind that you can never be completely sure who you are speaking to. Even if the recipient is trustworthy, one of your devices could be hacked, lost, or stolen. Leaked photos can have devastating effects on your career and reputation, which is why it is best to keep sexting as rare as possible.
Use Passwords on Your Devices & Change Them Frequently
Your devices contain a great deal of information that can be exploited by the wrong actor—which is why it is critical to password-protect all of your devices. You should also change your passwords every three to six months, and use strong passwords that contain a mix of letters, numbers, and symbols.
Keep an Eye Out For Phishing Attacks
Be skeptical of any messages or friend requests from people that you do not know. Never click on links in emails, texts, or social media messages from an unknown sender. And remember that no company will ask you for sensitive information like your credit card or social security number over email or text. If they do, it is a phishing attack.
There are always new scams going around, which is why it is a good idea to checklists of recent scam alerts from the Federal Trade Commission, FBI, and AARP. And if you see suspicious language in an email or text, you can always Google it to see if others have reported a similar phishing scam.
Update Your Security & Privacy Settings
Most social media platforms let users choose how much they share with the world. Check all your accounts and ensure your privacy settings are set at the maximum privacy with which you are comfortable.
Put a Sticker Over Your Webcam When Not in Use
While it sounds like a paranoid fear, webcam hacking does indeed happen. Do not make it easy for hackers and scammers to target you by recording you from your device's webcam.
To prevent these attacks, close your laptop when you are not using it. You can also place a sticker over your webcam or purchase a webcam cover so that the camera is blocked when it is not in use.
Remember to protect your children's privacy as well by covering the webcam on their devices when they are not actively using the front-facing camera.
Monitor Your Name & Online Presence
Monitoring your digital footprint is essential for staying on top of potential online harassment. One free and easy way to monitor online mentions of your name or the name of your business is to set up a Google Alert. You can also enlist professional digital risk protection services to monitor your online presence.
Install a Firewall & Antivirus Software
Accidents happen—which is why your device should be protected in case you accidentally click on a suspicious link. Antivirus software and firewalls can block hacking attempts and alert you of malicious activity on your device.
For tips on how to combat social media blackmail and harassment, we recommend reading our comprehensive guide 'What to Do If You Are Being Blackmailed on Instagram'.
How Can You Get Nudes Taken Off Websites?
If your blackmailer has followed through on their threat to leak nude images of you, there are several actions you can take to get the content removed as quickly as possible. You may be able to:
Send a DMCA takedown notice,
Report the content to search engines,
Report the content to the site where it was posted, and
File litigation to hold the poster responsible.
1. Send a DMCA Takedown Notice
The Digital Millennium Copyright Act (DMCA) regulates the digital reproduction of copyrighted material. If someone is posting photos you took of yourself without your consent, you can send a DMCA takedown notice to instigate the removal of that content from the internet.
2. Report the Content to Search Engines & the Hosting Provider
Posting nude images without the owner's consent is a violation of most platforms' terms of service. Google and other search engines allow users to flag non-consensual porn. Keep in mind, though, that while Google may remove the content from search results, that does not remove the content from the source website.
3. Report the Content to the Site
One free and easy method for removing nude photos is to report them to the platform where they were posted. Adult content violates the terms of service of sites like Facebook and YouTube, so these platforms should take down this content if you flag it using their reporting pages.
For more information on how to remove defamatory content from YouTube, we recommend reading our article: "How to Report & Remove Defamation on YouTube."
4. Initiate Litigation to Identify the Poster & Hold Them Accountable
If you believe you have a criminal claim against the poster, you should immediately reach out to your local police. Law enforcement officials and the district attorney who has jurisdiction over the case can prosecute a blackmailer.
If you have a civil claim instead (or wish to find an alternative to litigation), reach out to an experienced internet defamation attorney to learn about your legal options.
Video: Help! My Nudes Are on the Internet – How Do I Remove Them?
Watch
How Minc Law Can Help You When Someone is Blackmailing You With Nude Photos
If you are the victim of blackmail, an attorney can be an invaluable resource. Not only can a lawyer help you file a lawsuit against the defendant, but they can also provide objective legal advice and help you devise a comprehensive strategy for resolving the situation effectively.
Why is It Important to Get Legal Advice if Someone is Blackmailing You With Nude Photos?
Blackmail should never be taken lightly. A perpetrator of blackmail or extortion is committing a serious crime—and the consequences of leaked blackmail materials can include job loss, damaged personal relationships, and reputational harm. And in the worst of cases, blackmail can lead to physical, mental, and emotional trauma.
Since blackmail has the potential for severe consequences, it is always important to reach out for help immediately.
Blackmail is a crime that can be prosecuted both criminally and civilly—and you likely have multiple options for legal recourse. An experienced attorney can offer objective advice and help you come up with a legal strategy for responding to the blackmailer, removing any leaked explicit content, and holding the perpetrator(s) accountable.
How Can Minc Law Help You Deal With Online Blackmail?
At Minc Law, our legal team has the experience necessary to stop blackmail and sextortion quickly and discreetly. We understand the ins and outs of various platforms' reporting processes to help take down leaked content right away—and we can also monitor the internet for future attacks on your reputation.
★★★★★

"Michele Simonelli recently helped me with an sextortion case. Due to the escalating nature of the situation, she promptly moved a previously scheduled meeting forward, and took immediate action to help mitigate the threat. As anyone facing these type situations knows, it's extraordinarily agonizing, and one cannot even think logically. Michele was reassuring, and extremely responsive to my texts and phone calls, and also appeared non-judgemental. There's no way to know the outcome had I not used her services, however, the backing of her and the firm gave me enough confidence/hope to get through the situation, with what appears to be a successful outcome. Thank you Michele for your professionalism, responsiveness and kindness! I highly recommend this firm and particularly Michele."

Rh

August 18, 2022
Blackmail is a terrifying and embarrassing experience, and no one should have to go through it alone. If you would like to learn more about your options for responding to online blackmail, sextortion, or revenge porn, schedule an initial consultation with an intake specialist today by calling us at (216) 373-7706, speaking with a Chat representative, or filling out our online contact form.
Citations
1.
2.
3.
4.
5.
6.
7.
8.