Stop Defamation, Privacy Attacks, & IP Infringement
Online defamation is a form of libel in which written or published communication of a false statement is made to a third-party, ultimately causing harm or damage to another's business or personal reputation or lowering their respect or confidence within the community. In other words, if the pictures, videos, or words cause a business or person to be viewed by others with feelings of hatred, contempt, ridicule, fear, or dislike, they are considered defamatory.
Minc LLC provides businesses and individuals with a one stop source for:
putting an end to online defamation attacks;
repairing the resulting damage;
obtaining compensation for the damages and emotional distress; and
managing their online image, reputation, and company brand on an ongoing basis.
Through a combination of legal strategies and proven techniques, we not only stop the defamation, but we also help clients completely remove content from nearly every type of website on the Internet, including business review and complaint websites, discussion boards, news websites, blogs, social media websites, and cheater and gossip websites. Our clients benefit from working directly with attorneys who remove the damaging online content as well as provide actual legal representation to obtain cease and desist letters, coordinate with law enforcement agencies, and obtain court ordered injunctions and removal orders. When appropriate, our attorneys also work to obtain compensation for damages and emotional distress.
Elements of an Online Defamation Claim
Defamation laws vary from state to state, but generally a person must prove that a statement was defamatory to make a claim.
All of the following must be established by a person who brings a defamation lawsuit against another:
The statement was published by the defendant, meaning it was distributed to at least one person other than the plaintiff.
The statement provides enough information that the plaintiff is identifiable.
The statement harmed the plaintiff's reputation in some way.
In addition, the plaintiff must be able to prove that the defendant was negligent in some way, either in doing something he or she should not have done or failing to do something he or she should have. If the plaintiff is a private figure, only negligence must be proven. If the plaintiff is a public figure, such as a government official, he or she also must prove actual malice, which is a reckless disregard for the truth of the published statement. Finally, the allegation made about the plaintiff must be false.
Most states also recognize that certain statements are defamatory per se, and therefore, no proof is needed. Some such examples include:
allegations that harm a person's trade, profession, or professional standing;
allegations that a person is infected with a sexually transmitted disease;
allegations that an unmarried person is unchaste; or
allegations of criminal activity.
Defenses of Online Defamation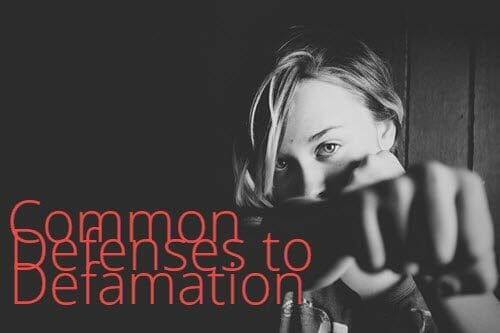 There are several defense arguments that typically favor the defendant in a defamation claim.
The statement is true. Truth is an absolute defense to a defamation claim. Even if a person has suffered some amount of harm due to the publication of such statements, damages cannot be collected if the statements are true.
The statement is false, but it is expressed as an opinion. If the statement is false but expressed as an opinion, the defendant may have a viable defense against a defamation claim. There are two exceptions to this defense. If a statement is made as an opinion or a joke but is taken seriously by a substantial minority or is deemed likely to be taken seriously by a reasonable person, then the plaintiff's defamation claim may be successful.
The statement if false, but its expression has limited reach. If the statement is false but expressed in a way that would typically only reach the plaintiff, the defendant may have a defense against a defamation claim. If, however, the statement is published in a way that would ordinarily reach others, such as publishing the statement in an online newsletter or posting it on a bulletin board on the Internet, then the plaintiff's defamation claim may be successful.
The statement is privileged. A statement is considered privileged communication if it is expressed during an interaction that is recognized by law as a private and protected. As an example, a person that makes a defamatory statement in a court of law cannot be charged with defamation. Public officials making statements about other public officials in the process of performing official duties also are protected. In addition, there is some protection for a reporter who relies on a public document or public official to report information that turns out to be incorrect. If a defamatory statement is not tied to any public document or public official though, republishing someone else's defamatory communication is not a defense, even if properly attributed.
The statute of limitations has expired. If the statute of limitations has expired on a defamation claim, the plaintiff has no case. The length of time may vary from state to state, but generally the statute of limitations begins with the first date of publication.
Damages for Online Defamation
A plaintiff bringing a defamation claim may be awarded monetary damages pertaining to loss of job, loss of reputation, humiliation, or mental anguish. In order to do so, it must be proven that these losses resulted from the defamatory statement. Lower monetary damages may be awarded if it can be proven that the plaintiff had a poor reputation before the alleged defamatory statements were made. A court also may order a retraction of the statement. Rules vary from state to state.
Content Removal
Many times, simply identifying an anonymous source and removing harmful or unwanted material from the Internet is not be enough to stop the effects of online defamation. Material that is removed from a website can be reposted. New information and content can be released as well as syndicated and copied throughout the Internet automatically if not dealt with and contained quickly. While most reputation management companies only suppress and bury negative search results, we focus on strategies and solutions to completely remove unwanted content from the Internet. Our attorneys and other professionals:
remove damaging and false information from blogs, comment sections, message boards, and other forums;
remove embarrassing pictures, photos, and videos from social networking sites, porn sites, and mug shot websites;
eliminate posts and other information from relationship infidelity websites, such as Cheaterland.com, Playerblock.com, and Reportyourex.com;
eliminate unwanted material from smear and gossip sites like Thedirty.com;
remove private and personal information from online public databases;
remove fake profiles on professional and social networking websites; and
remove illegal and unwanted content from search engine indices.
Read more about our Content Removal Services
Online Reputation Management Services
In addition to resolving our clients' initial defamation concerns, Minc Law works with a team of online marketing, search engine optimization (SEO), and public relations experts to provide ongoing Online Image and Reputation Monitoring. With reputation monitoring, clients have peace of mind knowing that any future issues can be detected and dealt with as quickly as possible.
Read more about our Online Reputation Management Services
How Do I Get Started?
If you or your business has suffered as a result of online defamation, our attorneys can put an end to the defamation, remove the defamatory online content, manage and monitor your reputation on an ongoing basis, and when appropriate, obtain compensation for damages and emotional distress.
Contact us today for a confidential consultation.
25,000+
Defamatory, negative, and unwanted webpages and content removed
125+
Cases in 22 states and 3 countries litigated
7,000+
Annual requests for assistance