Expert Witness Testimony Services for Businesses
Watch Here
Need Help with Expert Witness Services?
Is your business the target of an internet-related attack (defamation, extortion, harassment) and you are in the midst of, or contemplating, litigation and need expert help:
Producing comprehensive financial damage models to maximize and prove your business's claim for damages;
Proving attorney malpractice due to the inappropriate handling of your online defamation or harassment case;
Analyzing, reviewing, and testifying as to the investigative practices used and forensic data obtained to identify anonymous perpetrators.
Minc Law not only represents internet defamation clients, but we also provide first-class expert witness services across the country for businesses that require assistance in their lawsuit proving financial damages caused by online attacks and legal malpractice by attorneys that breached their duty of care, and providing high level technical analysis of forensic data and investigative practices.
Let's take control of your business's online reviews, profiles, and presence together.
How We Approach Expert Witness Services
A highly qualified, objective, and knowledgeable expert witness's services could be the difference between securing a favorable verdict or damage award in your legal case and an unfavorable one.
Our attorneys understand the countless factors that influence financial damage assessments and evidence pointing to legal malpractice in internet defamation and online harassment cases. This is especially important when it comes to maximizing your business's claims for damages and proving an attorney you relied on breached their legal duties.
Because of our depth of experience in combating thousands of internet-related attacks, we understand the complex navigation involved in handling your business's internet-related matter and apply this mindset to our approach and delivery as expert witnesses.
What Can We Help You With?
We provide expert witness services for the following categories.
Damages Calculation & Reporting
Approximate and recommend specific types of damages in internet defamation and online harassment related cases, as well as, quantify financial damages, and costs to repair those damages.
Standard of Care in Legal Malpractice
Testify whether an attorney or legal professional breached their standard of care owed to you and your business by failing to: file your business's legal claim within the appropriate statute of limitations, adequately prove financial damages at trial, or prove a specific element of your claim.
Financial Damage Modeling
Work with financial experts and clients to produce comprehensive financial damage models, prove reputational harm via analysis of drops in key business metrics (search traffic, profile ratings, SERP rankings), and evaluate expenses incurred by your business to mitigate damages caused by internet attacks.
Investigation Services
Provide high level technical analysis of subpoena results, IP addresses, and other technical evidence in online investigation cases and attest to whether the evidence in question traces back to the correct person, competing business, or collective of perpetrators.
Why Choose Us?
We provide first-class expert witness testimony to businesses in need of proving and maximizing financial damages caused by online attacks, proving legal malpractice in internet defamation and online harassment cases, and analyzing and verifying forensic data.
Expertise ● Experience ● Results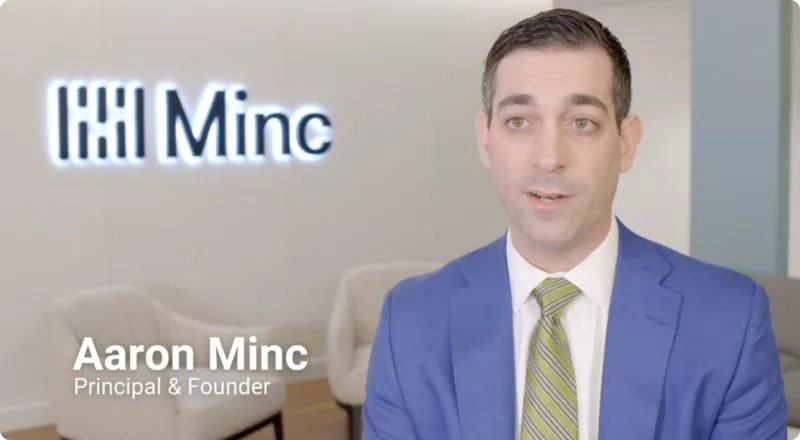 About Minc Law
Watch Now
We have litigated over 350 cases in 26 states and 5 countries.
We have removed 50,000+ pieces of defamatory and damaging online content.
Awards and settlement dollars obtained for clients.
Testimonials
See What Our Clients Have To Say.
I highly recommend the Minc Law firm. Not only were they knowledgeable, professional and timely in resolving my matter, but they were a pleasure to work with. Dan, Darcy and Melanie thank you for everything! My only regret was not engaging the firm earlier.
I Minc Law were very efficient an helpful within their services. Our team are based in the UAE and the process was streamline. Highly recommend.
Trust me, you don't want to get into these messes, but I feel a lot more at ease having spoken with the kind folks here at Minc Law. It really won't hurt to call and assess your options.
Minc Law firm helped resolve my legal needs promptly for a reasonable fee! Darcy was my main point of contact and she is most definitely the reason I chose Minc. She was friendly, professional, and compassionate and made me feel at ease. Darcy always answered my emails and calls promptly and addressed my questions and concerns. Thanks so much Minc Law! -Maria Perez
Unbelievable! I am a C Suite executive who has dealt with the top law firms and Aaron, Daniel, and Kaelynn and team are superior in the quality and execution of matters than most of these firms. When I had an urgent issue arise related to defamatory content online, Aaron and his team jumped on the matter immediately and within a few days had the content down and deleted. Moreover, we have not stopped there and have initiated litigation to ensure that these are repercussions for such comments. I am writing this out of my own volition and at my urging because I would like others to know that if you have any issues with content online about yourself, you don't have to feel helpless and can proactively identify and hold those responsible accountable. Thank you Minc Law firm. From bottom of my heart.