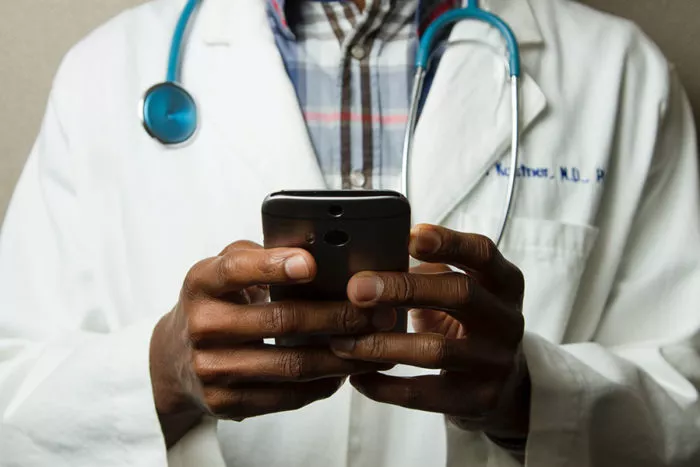 - Originally Published on August 26, 2021
How Medical Providers Can Remove & Respond to Negative Medical Reviews
Table Of Contents
Need Help? Connect With Us
All Minc Law exploratory calls are confidential, free of charge, and without obligation.
This page has been peer-reviewed, fact-checked, and edited by multiple qualified attorneys and legal professionals to ensure substantive accuracy and coverage. Our publication process is robust, following a 16-step content creation and review process.
Patient reviews of doctors on sites like Vitals, RateMDs and HealthGrades can make or break a medical practice. While online review sites give patients influence and control over their healthcare, negative and fake patient reviews can promptly ruin a medical provider's reputation.
Unlike other professionals or service providers, who can respond to online reviews without worry, medical professionals must tiptoe through an ethical and legal minefield. If your medical practice is the target of negative or fake patient reviews, we recommend adhering to these best practices when responding:
Understand HIPAA regulations and confidentiality obligations;

Do not acknowledge that the reviewer was a patient;
Do not identify the patient by name;
Do not discuss individual patient experiences;

Avoid responding publicly (this is the general rule of thumb);
Avoid responding impulsively or defensively;
Only include simple statements about your general practices and procedures (if you do respond publicly);
If appropriate, consider reaching out to the patient via private phone call.
At Minc Law, we have helped countless medical professionals and practices navigate the complexities of responding to negative and fake patient reviews. Many healthcare providers believe they are "stuck" because of HIPAA and patient confidentiality obligations and do not know that they can respond. There are options and we are here to help.
In this article, we will discuss how to respond to negative patient reviews, the importance of monitoring your patient reviews online, and ways to deal with negative reviews. We will also provide some tips on claiming your online profiles without running afoul of HIPAA regulations.
Fake reviews harming your business?
Let us help you explore your legal options and craft an effective strategy.
Contact Minc Law
Impact of Negative Patient Reviews on Medical Doctors
All businesses, even professional medical practices, need to be concerned with online reviews. Negative reviews can deter potential customers, while positive reviews have the power to directly boost a business's profitability.
While most doctor and healthcare provider ratings are overwhelmingly positive, medical professionals need to keep an eye out for negative and fake reviews. Most negative reviews and patient complaints are a result of miscommunication.
For medical providers, reducing the number of negative reviews can have a positive impact on the practice's bottom line. In fact, nearly 80% of consumers trust online reviews as much as personal recommendations.
ConsumerMedical, a healthcare decision support service, compiled a list of top doctors based on data that measures physician performance – like patient readmission rates, surgical infection rates, and patient outcomes. Only 2% of physicians who appeared as the top-ranked medical professionals in search results (according to online reviews) made ConsumerMedical's list of top performers according to quality metrics.
A prominent online presence or plethora of positive online reviews do not always sync with a medical professional's actual quality.
What Are the Consequences of Poor Patient Services?
Poor patient services can decrease a physician's quality metrics and often lead to negative online reviews. Even a single negative review can lead a business to risk losing 22% of customers. Such a significant loss in customers, naturally, leads to financial losses – reducing the number of new patients and causing existing patients to take their business elsewhere.
Multiple negative reviews have a compound effect – with roughly 60% of customers opting to avoid businesses with three or more negative online reviews.
What is Patient Satisfaction in Health Care?
Since patients do not rank medical providers on the same types of quality metrics as other professions, you may be wondering: what does it take to satisfy a patient? Most patients focus on factors like bedside manner, availability, and convenience when leaving online reviews.
Medical patients are consumers like any other – they want the same things people want from most other businesses, an excellent customer service experience. While every patient is different, the American Academy of Family Physicians found 5 common factors that contribute to most patient's satisfaction:
Clarify expectations – find out exactly what a patient wants from the visit at the start.
Positive communication – patients want their doctor to take their problem seriously, explain the condition, and attempt to understand their background.
Shared decision-making – patients want to express their own ideas and concerns to exercise some control over the visit.
Time spent speaking – patients appreciate when doctors take the time to build a rapport and satisfaction rates increase with longer visits.
Physician's appearance – patients like to work with smiling physicians who wear semi-formal clothing, as opposed to white coats or casual clothing.
Of course, your staff and administration contribute greatly to patient satisfaction. The first time a patient calls the office, staff can clarify their expectations and make an impression by communicating positively, showing the patient that their concerns are taken seriously from the start.
Finally, a clean and organized office can also go a long way toward establishing your practice as a professional and trustworthy establishment.
How Can Negative Patient Reviews Hurt Your Medical Practice
In the medical profession, negative reviews can hurt much more than your practice's bottom line.
Depending on the nature of the review, a poor patient experience and subsequent review could lead to an investigation into your medical practice, possibly resulting in fines or disciplinary action. Not only can negative reviews result in malpractice issues, sometimes a physician's response to the review itself runs afoul of the law.
In one case, a patient left a negative dentist review on Yelp following an appointment. The dentist responded publicly on Yelp with details that included the patient's personal dental information. The dentist's response led to a HIPAA investigation and a warning from authorities.
How Doctors Should Respond to Bad Online Reviews
If your medical practice receives a negative review, it can be tempting to respond with specifics to protect your doctor reputation. But the consequences are not worth it – especially when there are much more effective ways of dealing with a negative review.
In the video below, Attorney & Founder Aaron Minc is going to walk you through why it is important to monitor your medical practice's online reputation, best practices for responding to the reviews, and when it is an appropriate time to take legal action.
Video: How Medical Professionals Can Remove & Respond to Negative Patient Reviews
Watch
In the next section, we examine the best practices for responding to a negative (or fake) online review.
Can Doctors Respond to Reviews?
In most cases, no, doctors should not respond specifically to negative reviews.
Unlike typical businesses that can respond to positive or negative online reviews however they see fit, medical practices are strictly limited in how they can communicate with a patient in a public forum.
Your chances of running afoul of HIPAA regulations or making the situation worse are not worth the risk.
Responding to Negative Reviews Under the Health Insurance Portability and Accountability Act
As a physician, you are (hopefully) well-versed on HIPAA regulations, but how those regulations apply to online reviews is not always intuitive. HIPAA prohibits any responses that are not simple statements about general practices and procedures, such as "I provide all of my patients with good patient care," or "Thank you for your feedback. We aim to provide the highest value service to all of our patients. We welcome our patients to contact us directly at xxx-xxx-xxxx to discuss any questions or concerns."
Responses that acknowledge someone was a patient or discuss any details regarding the patient's visit violate HIPAA and could result in fines or disciplinary action.
Avoid Using Restrictive Contracts With Patients That Prohibit Them From Leaving Reviews
Medical professionals should also refrain from including provisions in patient contracts that prohibit, restrict, or penalize patients for writing online reviews. These provisions are unlawful under the Consumer Review Fairness Act and could result in financial penalties as well as a federal court order.
If your patient contracts contain any language restricting a patient's ability to speak honestly about your medical practice you should remove it immediately.
So, this begs the question – what can medical practices do to show patients they value their online reviews without violating the law?
Add a Disclaimer to Your Website
We recommend claiming your profile on any review sites and adding a disclaimer explaining that you are restricted from responding to online reviews. This will provide potential patients reading poor reviews context about your ability to respond. Here is an example of a suitable disclaimer that can be added to any review platform:
Dear patients,
We greatly value patient feedback and appreciate that online reviews are a useful tool that consumers use to educate themselves and select medical services. However, please be aware, unlike other businesses who may respond freely to online reviews, as medical professionals, we must, and do, provide complete confidentiality to our patients. That means we are prohibited from responding in any way that acknowledges whether someone has been in our care. If you have an issue that needs attention, please contact our office directly.
What Should a Doctor's Response to a Bad Online Review Always Include?
If you do decide to respond to a negative patient review, there are a few things you should always consider:
Consider reaching out to the patient via a private phone call,
Be empathetic,
Apologize,
Do not blame the patient.
Reach Out Via Private Phone Call
First of all, the best way to handle a bad review is by reaching out to the patient directly with a phone call.
Read the patient's review a few times and allow them the opportunity to vent. Sometimes customers just want someone to listen to their concerns.
Empathize With the Patient
Additionally, empathy goes a long way – show that you are taking their concern seriously and try to understand where they are coming from.
Do Not Blame the Patient
The worst way to respond is with a lengthy rant on the review site blaming the patient and failing to take any responsibility for the customer experience. A 2016 investigation by ProPublica identified physician responses that crossed the line (on top of breaking HIPAA laws).
For instance, one California dentist responded to a negative Yelp review by scolding the patient, "I looked very closely at your radiographs and it was obvious that you have cavities and gum disease that your other dentist has overlooked…you can live in a world of denial and simply believe what you want to hear from your other dentist or make an educated and informed decision."
Video: 3 Effective Strategies to Remove Fake & Negative Yelp Reviews
Watch
Not only did the above dentist violate HIPAA by acknowledging the review was a patient, but they also revealed private health information and used a tone that is not likely to win them any new patients.
A good example of a response might include leaving a simple message such as:
"Thank you for your feedback. We aim to provide the highest value service to all of our patients. We welcome our patients to contact us directly at xxx-xxx-xxxx to discuss any questions or concerns."
You can also let readers know that you cannot respond freely to online reviews, but you are happy to hear them out privately over the phone.
What Should Physicians Avoid When Responding to Online Reviews
While every situation is different and should be handled on a case-by-case basis, some general rules of thumb apply to nearly all online reviews.
When responding to online reviews, it is best to avoid:
Responding publicly,
Becoming defensive,
Attacking the patient, and
Disclosing any confidential information that could violate HIPAA.
While we have focused primarily on negative reviews, it is worth noting that positive online reviews can be problematic as well.
You cannot republish positive online reviews without a patient's permission – so you should not copy reviews from Yelp and post them on your practice's website. In 2016, a physical therapy office did exactly this and was fined $25,000 by the Health & Human Services Office for Civil Rights.
How Medical Providers Can Identify Fake Patient Reviews
Why Would Someone Write a Fake Online Physician Review
Competitors may use fake online reviews to gain an unfair advantage and steer patients away from your practice. Sometimes, disgruntled former employees take out their anger by leaving fake reviews to harm their previous employer.
Likewise, former patients that had a bad experience, or an "ax to grind" with a physician (perhaps over a collections issue) may resort to fake reviews. In short, there are several reasons why someone might leave a fake review but there is a common motive – the desire to harm a physician's practice and reputation.
How Should Doctors Manage Fake Online Reviews?
The best way to establish and protect your online reputation is by providing excellent customer service. When you go out of your way to give patients a positive experience, it will show up in online reviews.
Once you have multiple satisfied patients, you can solicit reviews from returning patients to help bolster your online presence. While negative online reviews are unavoidable, they can be offset by positive reviews.
For instance, if you check out a business on Yelp and see that it has 200 positive reviews and 1 negative review you are more likely to patronize the business than if they had a single positive review.
Finally, you can take advantage of online reputation management (ORM) services to suppress negative reviews and build trust in your practice. ORM strategies use a combination of marketing, SEO, and public relations strategies to boost an individual or business's online reputation. This may also include removing or suppressing unwanted content like negative reviews.
How Do You Verify if a Negative Review is Fake?
It is not always easy to spot a fake review, because some anonymous reviewers are relatively savvy with their attacks. Especially if you are dealing with a disgruntled former employee or patient who has personal experience with your practice, they may be able to leave a rather convincing review.
Nevertheless, there are a few common ways to spot a fake online review:
Consult Business Records
If you discover a negative review, check your records to see if the username resembles any of your patient's names or whether the described experience was legitimate.
Research the Reviewer's Account
If the account was created on the same day of the review and has no review history, that could be a red flag that the review was fake.
Identify if the Username is Suspicious
Fake reviewers have trouble resisting the temptation to use sarcastic names like "Seymore Butts." Others may use simple names like "John D." to maintain their anonymity.
Conduct a reverse image search on the reviewer's profile picture to see if it has been copied from a stock image.
Analyze at the Timing of the Review
If you have a consistent rating and suddenly discover multiple one-star reviews all at once, that could be an indication the reviews are fake.
Likewise, reviews left at odd hours (when most of your clients would be asleep) could indicate an unknown third party is leaving the reviews.
Analyze the Language Used
Does the review describe your services inaccurately or promote a competitor? If you have multiple reviews, are they written in a similar manner with specific similar complaints? This could be a sign the review is fake.
Look For Signs That it Was a Professional "Hit Job"
Sadly, some competitors will resort to unscrupulous tactics, like hiring a professional reviewer to attack other professionals and steer clients toward their practice.
More often than not, this work is outsourced to people outside of the U.S., so reviews written in broken English and left during odd hours could indicate the review was a hit job.
If you have reason to believe the review is from an actual patient, the best way to resolve the situation is with stellar customer service. Give the patient a call and listen to their issues. Apologize and let them know how you aim to resolve their concerns. Most unsatisfied customers (in any business) just want to be heard.
How to Remove Negative Reviews About Your Medical Practice
Speaking with patients with empathy and a desire to make amends can prevent minor issues from becoming a major dispute. Sometimes, just offering a listening ear is enough to encourage a patient to remove a negative review (and restore their faith in your service). However, there are some situations where legal action, or the threat of legal action, is the only way to get results.
How Do You Remove Negative Reviews From Rating Websites?
Everyone receives a bad review eventually. Unsatisfied customers are an unfortunate part of doing business. If you discover a negative online review, try not to obsess over it. If you spot negative reviews and think they are serious enough to hurt your professional reputation, there are countless effective steps you can take:
Preserve Evidence of the Review
Preserve evidence of the review with a screenshot and reach out to a defamation attorney to discuss your options.
Ask the Reviewer to Remove the Review
Many customers (medical patients included) just want to be heard. A private phone call to the unsatisfied patient may go a long way toward mending fences.
Not only can stellar customer service prevent bad reviews, but it can also encourage reviewers to remove a review once their concern has been addressed.
Flag and Report the Review
All review websites and platforms have Terms of Service that users must adhere to, both reviewers and businesses alike. For instance, most platforms prohibit users from leaving fake reviews if they were not actually a patient.
If you believe a review violates a platform's Terms of Service, you can flag and report the review. Though it is important to be wary of HIPAA regulations even when reporting content to a private third party.
If the reviewer was actually a patient, you cannot identify them as such or share any confidential information with the platform's moderators in the course of making a report. Given HIPAA concerns and the effort involved in navigating a platform's Terms of Service, it may be wise to seek an attorney's assistance.
Pursue Legal Action
In some cases, a lawsuit or cease and desist letter may be the best option. Yet, this should always be considered on a case-by-case basis. If you have a ton of positive reviews and only have a single negative review, legal action may not be necessary or worthwhile.
On the other hand, accusations that are serious in nature, like malpractice allegations, criminal activity, or discrimination, are worth discussing with a lawyer. You can file a defamation lawsuit if the allegations are serious enough to harm your professional reputation.
A lawsuit may be an effective tool to uncover the identity of an anonymous poster if you are having trouble determining who is behind the negative reviews.
Use Online Reputation Management Services
While the best method for dealing with a negative review is to get it removed, there are other ways you can take ownership of your online presence. Online reputation management (ORM) services use a combination of marketing, SEO, and public relations strategies to ensure your digital footprint promotes the image you wish to convey.
ORM often involves an ongoing financial and time commitment because content creation is key. By creating positive online content and claiming online profiles, ORM services can help drown out negative content and proactively monitor your online reputation.
Make sure to read our comprehensive article explaining online reputation management costs.
Where Can You Get Advice on How to Remove a Negative Review?
The best place to get advice on removing negative reviews is by speaking with an experienced internet defamation attorney. An internet attorney can help you develop a strategy that best meets your goals and budget.
Additionally, it may be wise to reach out to other medical professionals who have successfully removed negative reviews. They may be able to provide actionable tips or refer you to a trusted attorney.
Why Should You Work With a Legal Team to Remove Content From the Internet?
Law firms experienced in removing content from the internet can provide a wealth of information. They can also help you navigate legal requirements, particularly HIPAA rules when dealing with negative reviews. You have options when it comes to dealing with negative online content, and your legal team can help you decide the best way forward given your unique circumstances.
Experienced internet attorneys and law firms have access to the investigative tools necessary for identifying anonymous reviewers and know how to work with review platforms. If you need to pursue a court order to remove content, you will need to hire an experienced lawyer who knows what review platforms are looking for in a court order.
We Can Help You Navigate Negative and Fake Medical Reviews
At Minc Law, we are dedicated to removing false and defamatory online content. We know what it takes to remove negative and fake reviews from medical review websites and can help doctors navigate the legal and ethical intricacies of responding publicly (or privately).
★★★★★

"I had an issue with someone posting very bad information about my company, maybe a competitor or a troll. I would highly recommend this company they really helped me out."

John Daniels, October 8, 2019
If you would like to discuss your options for dealing with negative online reviews, contact our office for a free, no-obligation consultation with an intake specialist. We can be reached at (216) 373-7706 or via our online contact form.
Looking to enhance your hospital's reputation? Dive into our insightful article, 'Hospital Reputation Management: How Healthcare Professionals Can Foster a Positive Hospital Reputation' to discover the essential steps.
Citations
1.
2.
3.
4.
5.
6.
7.
8.
9.
10.
11.