Cost of Minc Law's Internet Defamation & Online Reputation Management Services
Pricing Information for Internet Defamation Services
At Minc Law, we pride ourselves on transparency and trust. We understand that the costs of legal representation is one of the most important questions clients want answered when choosing a lawyer or law firm to represent them. We created this page to answer these questions pertaining to this crucial issue. Below, you will find detailed information regarding:
The three different types of pricing structures and services that Minc Law offers clients;
How much each category of legal services can typically cost;
Factors that can influence cost for each category of legal service;
How much time different types of legal matters typically take;
What can you expect if you retain Minc Law for each service;
Answers to some of the most common questions people ask when calling our firm to inquire about our services;
Information needed to help clients determine what legal services at Minc Law are right for them; and
How to develop an initial budget and case plan for the costs associated with pursuing your case.
As simple as the question of costs may sound, providing accurate price and cost estimates for legal services is not an easy task. The answer in every case is that, it depends on so many different factors. Buying legal services is not like buying a house or a car. There are rarely any one-size-fits-all solutions. Every client's legal matter is unique. Dozens of unknown factors can significantly affect costs. Legal matters can also be unpredictable. There are factors present in most all legal matters that are beyond anyone's control. These factors can potentially prolong necessary work and significantly affect expenses on any case.
This page is a comprehensive guide meant to provide useful and actionable information to potential clients who are actively considering our firm for legal services. It covers the most important factors that influence costs in legal matters and gives the average or minimum range of costs often required for different types of legal matters.
It also provides specific information on prices and costs, based on:
Our internal accounting data, and
Years of experience representing thousands of clients in internet defamation cases.
However, this page is NOT an exact price quote or cost estimate for your specific case. As with any sensitive legal matter, if you are interested in obtaining more specific advice or information regarding the costs and expenses related to your specific case or issue, you will need to speak directly with a legal expert.
Minc Law's 3 Tiered Approach to Services & Pricing
One of the most important questions that we get asked everyday by clients before they retain our firm is, how much is my legal matter going to cost?
At Minc Law, we offer three primary types of services and pricing that we charge clients for all of our firm's legal engagements. These are:
1. Guaranteed Content Removal Services:
Guaranteed content removal services are offered for websites that we have extensively worked with in the past and regularly remove online content from. We charge a flat fee for guaranteed content removal services.
Websites that qualify for guaranteed content removal services generally include: "shaming," "scam" and "cheater" websites. If your case qualifies for a guaranteed content removal and we are unable to remove the online content, we will refund your money for any content that we cannot remove. The minimum amount we charge for our least expensive guaranteed removal is $1500. However, the average single site removal typically costs around $2500 or more.
2. Hourly Non-Litigation Services:
Hourly non-litigation services are offered when a client retains our firm where no litigation is contemplated or involved as part of the legal engagement. We require an upfront retainer (deposit) of a set amount of money for hourly non-litigation services and then bill for services at an hourly rate. Generally, a minimum retainer of $3500 to $4500 is required for an engagement.
Hourly non-litigation service matters generally include the removal of news articles, blogs, consumer reviews, images, court pleadings, and other content that is typically either factual in nature or otherwise not actionable. However, they can involve almost anything, including, online harassment, cease and desist letters, online extortion, sextortion, criminal conduct, pornography, revenge pornography, defamation, and other online privacy concerns.
3. Hourly Litigation Services:
Hourly litigation services are appropriate when a client's case involves filing a lawsuit. They are the most cost, time, and work-intensive service of the three. We bill litigation services hourly, including expert witness services. Generally, we require a minimum retainer of $7500 for any litigation matter. However the total cost of your litigation matter will be influenced by a number of important factors.
Which service is right for you and how much it costs depends entirely on the types of issues you may be facing, as well as a variety of other factors. Read on to find out about each in greater detail! To avoid wasting time, we strongly suggest that you to skip to the section of this page that directly applies to the type of legal matter or service you are considering.
Why Choose Minc Law?
No matter what online content issue you are facing, we at Minc Law are able to handle it. Watch our accompanying video to learn what separates Minc Law from other law firms when it comes to removing unwanted online content and why you should hire the best when your reputation is at stake.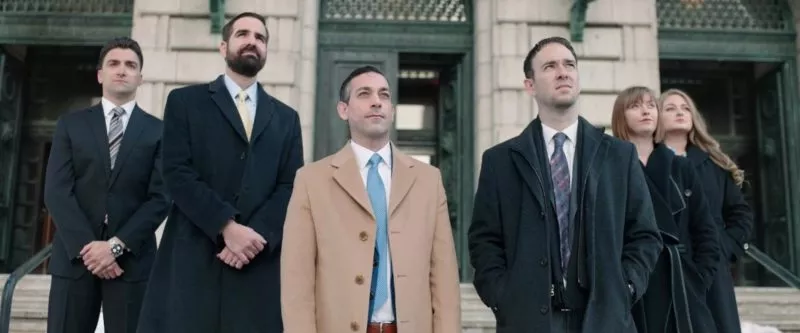 About Minc Law
Guaranteed Content Removal Services
The first type of legal service that we offer are Guaranteed Content Removals. These types of matters are the most basic and straight forward of the three services discussed on this page.
Video: What are Guaranteed Removals?
Watch
What Websites Qualify for Guaranteed Removal Services
Websites that generally qualify for this service category are best described as "Shaming," "Scam," or "Cheater" websites, due to the substance of the content posted. We are able to charge a flat rate for these services because the work involved is generally predictable and routine. We have helped our clients get posts removed from these sites hundreds of times over the years.
Several examples of websites we offer guaranteed content removals from include:
Badbizreport.is
CheaterReport.com
The full list of sites that qualify for guaranteed content removals can be found over at our Guaranteed Content Removals page.
In this chapter:
For guaranteed content removal services, we charge a flat-fee to remove unwanted content from a set list of specific websites. If we don't successfully remove the content, you get your money back.
Cost of Guaranteed Removals
The minimum amount we charge for our least expensive guaranteed removal cases (or site) is $1,500. But most guaranteed removals cases generally cost more than this amount and are around $2,500 or more.
There are several factors that can potentially affect pricing in any given case. The primary factors that influence guaranteed removal costs are:
The difficulty and amount of work involved in removing the client from a specific website;
The number of posts or amount of websites a client is published on;
A website's removal fee or other transaction fees and costs paid for the removal; and
Mitigating factors that we can use to negotiate removals in some cases;
For example, the more web pages or sites someone needs taken down, the more money it's going to cost. But depending on the number of websites a person is published on, we can often decrease costs or negotiate removals at a discount.
Keep in mind that we have clients who may be published on anywhere from 1 to 15-plus websites sometimes. Many times people don't even realize how many websites a post has been copied or published to until we talk to them and conduct several specific searches. Costs can add up quickly when dealing with content posted across dozens or even hundreds of websites.
In any case, what's important to understand is that removal from each site has unique work and costs involved. Every case is different.
Best Approach if I'm Listed on Numerous Websites
If a client finds themselves posted on a large amount of websites and the total price of a guaranteed removal matter is high (ex. over $10,000), we usually recommend that clients consider retaining our firm under an Hourly Non-Litigation matter engagement (discussed below).
Although hourly engagements makes pricing more uncertain than guaranteed flat fee removals, for those who prioritize keeping overall costs down over dead-certain predictability, it usually provides clients with the best option to:
Give the best overall value for the services, and
Keep total legal costs as low as possible.
Regardless of the situation you are facing, what's important is that you discuss the facts of your case further with a Minc Law representative to fully understand and explore what the right decision and options are for your particular case.
What Can I Expect Working with Minc Law on a Guaranteed Removal Case?
When removing content from any guaranteed removal website, you'll work with one of our experienced paralegals. Minc Law paralegals handle these types of removals and deal with these websites directly, on a daily basis.
Our highly skilled intake & paralegal team handles Guaranteed Removal matters from beginning to end. They will be your primary contact point for any consult, communication, sign-up and payment questions, and (most) all work completed on your case.
In most all cases, guaranteed removals are typically completed within 5-7 business days or less. However, we do offer emergency 24-hour removal services at a higher price point for some websites. Additionally, for all matters that are not emergency removals, we generally request that clients allow us up to 30 days in case extra time is needed for a specific site or circumstance to complete work on a specific matter.
Every situation is unique, so it's extremely important to reach out to us, so we can provide an accurate price quote and timeline for your specific case and needs.
Reach out to us with a short summary of your legal issue and we'll be in touch within 24 to 48 business hours!
Hourly Non-Litigation Services
Hourly Non-Litigation Services refer to matters handled by Minc Law attorneys that require an upfront retainer (deposit) of a set amount of money. They are billed hourly as work is completed.
Hourly Litigation Services (& Expert Witness Services)
Hourly Litigation Services refer to matters handled by the firm on an hourly basis that involve litigation (i.e. lawsuits). Of the three types of services we provide, Hourly Litigation Services are typically the most cost, time, and work intensive service of the three.
Most Common Hourly Litigation Services We Provide
As the name suggests, hourly litigation cases involve lawsuits. The most common types of lawsuits that Minc Law handles are:
"John Doe" suits to determine the identity of an anonymous defamer or the source of cyber harassment;
Injunctions to stop defamation, extortion, and other types of cyber harassment;
Cases where a court order is required to remove content from a website or Google search results (I.e. Ripoff Report, Pissed Consumer, etc);
Traditional libel and privacy tort cases for monetary compensation; and
Expert witness testimony and damage reports.
The above list is far from a complete list of all the types of matters we litigate.
Importantly though, we don't see litigation as the solution to people's problems. At Minc Law, we see litigation as a necessary means to relief at times, not an end. It is simply just one of many weapons in our firm's war chest that attorneys are equipped with to get clients the relief and resolution they are seeking.
For most of our clients (90%+), the primary goal of their legal engagement is to remove defamatory online content, stop harassment, and identify the party that's responsible (if they are unknown).
Obtaining monetary compensation is always considered and an available option, but is usually something that is a secondary goal in most cases. But not all.
Usually, we strongly recommend our other services to clients first if it will accomplish a client's goals. Only if we deem litigation both a necessary and appropriate tool to be utilized in your case to most effectively and efficiently obtain the results you want, will we then recommend it as an option.
As with all cases, to find out if your case qualifies for litigation or another service area, you must speak with a Minc Law intake specialist and then attorney during a consult further to assess the unique facts of your case.
Average Costs of Hourly Litigation Services
At Minc Law, we bill litigation services hourly, including expert witness services for businesses and individuals, and require a minimum retainer of $7,500 for any litigation matter. For more information about how retainers work see the 'What is a Retainer & How do Hourly Billed Legal Services Work?' in the FAQ of the Hour Non-Litigation section of this page.
Average total cases costs can be as low as $5000-$7500, fall between $14,000-$16,000 in many situations, and sometimes can cost far more if certain other factors are present.
To start, the $7,500 retainer amount is requested for a couple of reasons.
First, the retainer amount is generally what's needed (at a minimum), to cover costs, fees, and other expenses to initiate and sustain your legal matter during the first 1-2 (or 3) months.
To file a defamation lawsuit requires a lot of work. We often need to cover and pay numerous costs, fees, and make several filings to commence a lawsuit. These include:
Initial intake, investigation, and pre-litigation due diligence;
Research and drafting a complaint;
Court costs associated with filing fees;
Process server or other service costs;
Local counsel fees;
Necessary pre-suit communications or demand letters; and
Subpoena fees and costs (especially in John Doe lawsuits);
This list is far from exhaustive. Either way, the point is we know from experience that the total costs of most litigation matters wind up being at or over the initial retainer amount.
Second, litigation is expensive. We need to know you are serious and committed to trying your case and have the budget to do so.
For many people, the costs to pursue litigation are very significant. While we would like to be able to represent all clients in cases regardless of budget, the reality is that that its in no one interests to have people pursue legal matters they can't afford. This is true regardless of how much we would like to help someone or they really need our help.
The retainer we request for litigation is a fair, and reasonable sum, that we find is agreeable to most people who are serious about pursuing a lawsuit. It ensures that there is a proper balance of trust regarding our firm's desire to be paid in a timely manner for legal services that will be incurred, while also not unnecessarily burdening our clients financially.
On very rare occasions we may be amenable to accepting a lower retainer amount if it appears the matter is an abbreviated and very contained case (like pre-negotiated stipulated judgments or consulting work on already filed lawsuits). However, these cases are the exception, not the rule.
Likewise, when specific matters seem certain that they will drive up extraordinary costs quickly or present highly unusual circumstances, we may request a higher amount. These decisions are left to the discretion of each attorney working on a matter and firm management in each case.
Open & Honest Communication
What is far more important to us as a firm, and for purposes of your legal matter, is that when you consult with a Minc Law attorney or paralegal about your case, both parties have an open and honest conversation. This conversation can shed light on expected factors that could drive costs in the case and what, if any, limitations there are to a client's budget that an attorney handling your matter should be aware of.
Because the costs and necessary budget of a case can depend on factors that are unknown or unpredictable, below we discuss some of the primary factors that can influence costs and what the average cost of cases are when these factors are present.
Costs of Contested vs. Uncontested Cases
One of the biggest factors that determines hourly litigation service case costs is whether a case is contested or uncontested. Meaning, do you have an opponent on the other side of your case fighting back against your claims or not.
Uncontested Case Costs
When cases are uncontested or settle quickly, legal costs are much more affordable. At Minc Law, 90% or more of all client cases are uncontested.
This is typically by design. In all cases, our firm aims to give clients strategy suggestions and advice regarding legal claims that more often than not lead to quick resolutions, uncontested outcomes, and effective and cost-efficient results.
The average uncontested lawsuit at Minc Law usually takes about six to seven months. Even uncontested case costs can vary significantly based on any number of different factors. However, on average, they total around $14,000-$16,000.
Keep in mind that this amount is half the initial retainer we request. Meaning on average an initial retainer can cover about half the total costs of an uncontested lawsuit.
When the initial retainer runs out, monthly invoices generally will range between a few hundred to a few thousand dollars ($1000-$3000). Once again, it will depend on the amount of work completed in a given month and what is going on in your case.
Contested Case Costs
Contested cases, in most all circumstances cost more money than uncontested cases. This is because they inevitably take a lot more time, preparation, and work. The primary reason why cases are contested, and not uncontested, usually has to do with the client's desire to obtain monetary compensation and relief.
Total costs and the time it takes to litigate contested cases are hard to predict. This is because the actions of the opposing party or decisions by a Court at any given point can completely change the dynamics, timelines, workload, and costs of any given case. These factors are not accurately predictable prior to filing and litigating a matter. However, once a case is filed we can get a much better sense for how the litigation will go at each phase of a case (pleadings, discovery, mediation, trial, etc.).
Therefore, when we discuss case costs with clients who are contemplating contested litigation, we usually frame the conversation in terms of what a case or client's expected monthly budget will be.
Generally speaking, a reasonable cost expectation is that contested cases require an average monthly budget of around $4,000–$6,000. Therefore, a simple way to figure out costs is simply to multiply the average monthly cost above by the number of months the litigation might take to conclude.
So for example, 6 months of contested litigation could cost between $24,000-$36,000.
However, litigation costs can vary dramatically month-to-month in certain situations. In a month where there are depositions , hearings, mediation, motions being filed, or other heavy workload activities, case costs are higher. On the flip side, there are also many months in litigation where there is little to no activity. For example, if the parties are waiting on a ruling from the Court, bills during these months can be small.
What is critical to understand is whether you can realistically afford the expenses at all, or what your breaking point would be in terms of overall or monthly budget. All of our attorneys can work with in a framework of known expectations to keep costs contained and push case timelines as best as possible.
At Minc Law, we try to stay as flexible as we can regarding budget and payment options to deal with these variable financial burdens and constraints. Communication and transparent dialogue is essential to any successful attorney client relationship in a contested case.
Other Important Ligation Cost Factors
Regardless of whether your case is contested or uncontested, each month can bring a host of different challenges and issues that can impact case costs. Litigation services and costs are also influenced by:
Amount of content you want removed,
How long the case goes,
Whether the defendant is unknown,
Whether a court order is necessary to obtain relief,
Whether you're seeking monetary relief,
Whether emergency motions are necessary,
Appeals (if necessary),
Expert witness file review and preparation,
Expert witness testimony fees.
All of the above factors need to be discussed with one of our experienced attorneys in order for us to provide you with an accurate quote or idea of what costs could look like.
For a full list and breakdown of all the factors which drive the costs of a defamation case, check out our article 'How Much Does a Defamation Case Cost?'
Frequently Asked Questions About Pricing
Questions About Pricing? Call Us at (216) 373-7706
Generally, no. We do not take defamation cases on a contingency basis. This is due to a variety of different reasons, including that the most of our clients are interested in content removal, not monetary awards.
We are fortunate and humbled to receive hundreds of inquiries per month from people, businesses, and other organizations looking to hire us for legal services. Our services are in high demand and we simply do not have the capacity or the need to take on any additional financial risks of contingency matters as part of our firm's business model.
Yes, but we only take cases on a flat fee basis if they qualify as guaranteed content removals. However, if your case is one we handle on an hourly basis and you would like to place maximum amounts or limitations to the amount of money you spend on your legal matter, this can (at times) be arranged. We do try to do everything reasonable that we can to tailor our services to fall within a mutually understood budget if one is set by a client and agreed to ahead of time.
This conversation needs to happen upfront in your initial consult with the attorney who handles your case. Your budget and expectations should be clearly set out and agreed to in writing (in emails) before significant work is started on your matter. Otherwise, the terms of your engagement agreement will control the matter.
Minc Law attorney's current hourly rates are as follows:
Aaron Minc – $600 per hour
Daniel Powell – $450 per hour
Dorrian Horsey – $425 per hour
Nathan Woodward – $375 per hour
Michele Simonelli – $350 per hour
Michael Pelagalli – $350 per hour
Caroline Ford – $275 per hour
Minc Law paralegals and law clerks bill at hourly rates of $100-150.
You can reach out to any of the Minc Law attorneys to discuss your issue by calling us at (216) 373-7706, engaging with a Live Chat representative, or scheduling a meeting online.
Yes. But we only offer money back for guaranteed content removal services detailed above. If we can't get your post from that specific list of agreed websites removed, then we will return your deposit in full.
We do NOT offer money back guarantees for Hourly Litigation and Hourly Non-Litigation Services. We are a professional service provider. No different than most professionals, we bill by the hour for our time, and are due to be compensated regardless of results where no specific results were guaranteed.
When working with Minc Law, you're getting the best of the best in terms of professionals and expertise in internet defamation, content removal, and other areas of internet law. That's why people come to us, to help them tackle the hardest to solve and most important issues.
We always strive for 100% success on every matter and have extremely high success rates removing online content (please see our testimonials), However, we do not guarantee successful outcomes, especially on professional attorney services.
Unfortunately, the answer is yes. While it might seem unfair that you have to pay for the removal of content posted by a third-party that is harming you and you believe is illegal, no one else is going to pay for it to come down. Ultimately, it's your risk and your reward.
If you want online content removed today, contact us immediately to schedule your free, initial no-obligation consultation with an intake specialist.
We accept cash, check, and all major credit cards.
Get help right away.
Get in touch with us and one of our dedicated intake specialists will be in touch to help within 24-48 hours. Watch this video to learn more about what will happen when you submit this form.
Watch
<![endif]-->`; document.head.append(LtIE); var hubFormScript = document.createElement("script"); hubFormScript.id = "formScript"; hubFormScript.src = '//js.hsforms.net/forms/v2.js'; hubFormScript.addEventListener("load", function(event) { hsFormInit(); }); document.head.append(hubFormScript); observer.unobserve(entry.target); } }); }; let observer = new IntersectionObserver(callback, options); observer.observe(formObserver); } else { setTimeout( hbspt.forms.create({ portalId: "2522040", formId: "0ef08260-a836-484a-ba17-bea98f3bf067", target: "#form-block_922c8e95bf6b12f936cc368a7200b9f3" }) , 3000); }