- Originally Published on June 17, 2021
Important Steps to Take if You Are Slandered on Facebook
Table Of Contents
Need Help? Connect With Us
All Minc Law exploratory calls are confidential, free of charge, and without obligation.
This page has been peer-reviewed, fact-checked, and edited by multiple qualified attorneys and legal professionals to ensure substantive accuracy and coverage. Our publication process is robust, following a 16-step content creation and review process.
It can be overwhelming and distressing to deal with vicious lies and slander on Facebook. While the platform was designed to bring people together, some use it to smear the reputation of others. When someone defames you or your business on Facebook, it is important to act before things spiral out of control.
Here are the steps you should take if you are being defamed and slandered on Facebook:
Remain calm and know that you have options to end the malicious behavior,
Do not engage with the defamer,
Preserve all evidence of the slander,
Block the user,
Maximize your social media privacy settings,
Report or flag the slanderous content,
Report the defamation through Facebook's defamation reporting form (for non-U.S. residents), and
Work with an internet defamation attorney to send a demand letter or file a defamation lawsuit.
At Minc Law, we have extensive experience holding defamers accountable for their actions. We also know what it takes to remove defamatory content from social media and have helped clients remove over 50,000 pieces of unwanted online content and litigated more than 350 defamation cases.
Video: What to Do If You Are Being Slandered or Libeled on Facebook
Watch
In this post, we will provide step-by-step instructions for reporting defamatory content on Facebook. Then we will discuss your legal options if Facebook or the defamer refuse to remove the content.
Fight back against Facebook defamation.
Contact us now and take the first step towards restoring your reputation and peace of mind.
Contact Minc Law
Difference Between Libel & Slander on Facebook
Defamation, also commonly referred to as 'defamation of character', is broken into two distinct types: slander and libel. The key difference between the two types of defamation is how the reputation-damaging lies are "published." Slander is defamation that is communicated orally or spoken aloud while libel is written defamation.
Historically, these two torts had different burdens of proof, with libel being considered a more damaging tort. Now, the two torts generally have the same elements (except for the manner of publication) and are viewed as equally damaging.
Is it Libel or Slander if Posted on Facebook?
Social media defamation on Facebook can take both forms: libel and slander. Below, we explain common examples of each form of Facebook defamation.
What is Considered Slander on Facebook?
Reputation-damaging lies that are spoken aloud or communicated orally on Facebook are considered slander. Livestreams and videos, for instance, can be slanderous if they include defamatory statements.
A defamatory statement is simply one that makes a false assertion (a lie presented as truth) that causes damage to someone's reputation.
What is Considered Libel on Facebook?
Libel is slightly more common on Facebook than slander because there are a multitude of ways to spread lies in writing on the social media platform. Lies contained in Facebook posts, comments, messages, and on someone's profile can all be considered libel.
One outrageous example of Facebook libel led to a $500,000 settlement in Asheville, North Carolina. In 2015, a woman falsely posted that another "woman got drunk and caused the death of her child."
The two women knew one another because they both competed for the same job – general manager of a local radio station. The victim of the social media libel did, in fact, lose her son in 1976. However, he was killed by another child and the mother was not involved in the accident.
While the North Carolina example is extreme, it shows just how damaging and hurtful Facebook libel can be. Social media defamation can ruin lives and should always be taken seriously.
Negative Review Tip: Aside from improving a customer's experience, there is not much you can do about honest, but negative reviews. However, if a reviewer lies about being a customer or their experience with your business – they are crossing the line into defamation. False reviews often violate the Terms of Service for review platforms, so you may be able to report the fake review directly to the website to get it removed. If non-legal methods of removing a fake review do not work, you can sue a defamer to get the defamatory review removed.
How Slander & Libel on Facebook Can Affect Your Life
Facebook defamation is not just emotionally tragic, it can lead to severe upheaval in the lives of its victims.
How Can Defamation on Facebook Affect You & Your Business?
Facebook is the world's most popular social media platform, with billions of daily users. Each user can post defamatory statements in a variety of formats. Making matters worse, the social media platform makes it easy to re-publish and share the defamatory posts of others – allowing lies to spread like wildfire.
Libel and slander affect individuals as well as businesses. Like Google or Yelp, Facebook has its own business review pages. Any Facebook user can leave a review or comment about a business, and it will be seen by anyone who visits the business's page.
Facebook business review pages provide ample opportunity for defamation. And it can be difficult to get a defamatory review deleted or removed once it is posted.
While businesses have public pages for obvious reasons, plenty of other individuals and entities have public Facebook pages as well. Non-profits, clubs, organizations, churches, and influencers often create public Facebook profiles so they can be easily found. Other individual users might have a public profile simply because they are unaware of how to make their profile private.
The problem with public profiles is that they can potentially draw public attention to the wrong content. Anyone that finds the public page can make comments, leave a review, or interact with the page. If someone makes a defamatory post or review – it can be hard to discern how many people saw the post. This, in turn, makes it difficult to determine how many potential customers are lost as a result of the post.
Social Media Privacy Tip: Sharing personal information on social media can open you up to scams, identity theft, hacking, online predators, and sextortion. To protect yourself online it is wise to maximize your social media privacy settings and make sure you know exactly what personal information you are sharing. Here are a few tips for controlling your privacy on social media: (1) only accept friend request from people you know, (2) keep personally identifiable information private, and (3) turn off location data.
Video: How to Protect Your Privacy on Social Media
Watch
How Difficult is it to Take Action Against Malicious Facebook Comments?
While it is not always easy to assess the damage caused by a malicious Facebook comment, there are things you can do to put an end to the libel or slander.
What Can I Do If Someone is Slandering Me on Facebook?
If you are being slandered on Facebook, here are some steps you should take to stop the defamation and protect your reputation:
Remain Calm
Online slander can be distressing, but it is important to remain calm. Take a breath (or a break if you need one) and remember that you have legal options.
Do Not Engage With the Defamer
More often than not, defamers are trying to cause an emotional reaction. You could make matters worse by responding and hurt your chances of a successful legal outcome.
Preserve All Communications
Make sure you screenshot the defamatory content and other relevant evidence like the user's Facebook profile URL. This way you will have evidence of the slander or libel even if the user later deletes the content.
Block the User
This step is relatively self-explanatory. After you have preserved as much evidence as possible, block the defamer.
You do not need to interact with them, and you do not want them to have continued access to your profile and posts.
Maximize Your Facebook Privacy Settings
Adjusting your Facebook privacy settings can make it more difficult for defamers to find you and help you protect your privacy.
Report the Defamatory Content
You can flag and/or report defamatory or malicious content to Facebook's moderators.
In the sections that follow, we will provide more detailed instructions for reporting slander on Facebook.
Work With an Experienced Internet Defamation Attorney
Consult an experienced internet defamation attorney to help you identify all your legal and non-legal options.
Don't suffer in silence.
With a team of experienced attorneys, we will fight for the closure you deserve. Take back control today.
Contact Minc Law
How to Prove Slander on Facebook
If you are struggling with slander – or any form of defamation – you might be wondering how you can prove the statements are unlawful.
How Difficult is it to Prove You Have Been Slandered on Facebook?
The first step in proving you have been slandered on Facebook is the easiest – make sure you preserve all evidence and videos which demonstrate the slanderous statements.
Take screenshots of the defamatory content as well as the defamer's profile. You will want to keep a copy of the defamer's Facebook account URL as well.
If you see that other people have liked, viewed, or otherwise interacted with the defamatory post, ensure that information is captured in the screenshot(s). This could help show the damage caused by the slander.
For an in-depth look at proving slander, check out our post, "Everything You Need to Know to Bring & Succeed in a Defamation Lawsuit."
Is Facebook Liable For Defamatory Posts?
In general, Facebook may not be held liable for slanderous or defamatory posts due to Section 230 of the Communications Decency Act. Section 230 protects internet service providers, like Facebook, from liability for content posted to their platform by third-party users.
Video: Why Section 230 of the CDA Should Matter to You
Watch
In most cases, it is only the user who posted the slanderous content who is liable for their actions. There are limited exceptions to this rule.
Facebook cannot claim legal immunity in situations where:
Facebook edited a published statement, and
The edits materially alter the statement's meaning, and
The altered statement is then defamatory.
Facebook may also be held liable for content posted to their platform in situations where:
They create or facilitate unlawful activity, or
Promise to remove content and then fail to do so.
For further reading on why you generally cannot sue an internet service provider, please read our article by attorney Dan Powell 'Can I Sue Google?'.
How Do You Report Someone For Slander on Facebook?
There are different ways to flag or report defamation on Facebook depending on the content. You may even be able to flag multiple items, like a slanderous video and the profile of the user who posted the video.
In the following sections, we will explain how you can report:
Libelous posts by clicking on the post itself,
Slanderous videos by clicking on the video,
Profiles or accounts of users who are defaming you, and
Slander or libel through Facebook's Defamation Reporting Form.
You can also report content that violates Facebook community standards, like violent threats, criminal behavior, nudity, or hate speech (among others). Facebook's Help Center also provides information about reporting each type of inappropriate content.
Report the Libelous Post to Facebook
If a written Facebook post or comment is libelous, you can directly report the post. Simply follow these steps:
Click on the 3 dots "…" on the top right of the post.
Click, "Find support or report post."
Click the option that describes how the post violates Facebook's Community Standards, and then click, "Next."
Facebook may ask you to submit a report describing how or why the content violates their Community Standards. Describe why the statement is libelous and then select, "Done."
Report the Slanderous Video or Photo to Facebook
To report a slanderous photo, video, or livestream:
Click on the photo or video to expand it. If the profile is locked and you cannot view the full-sized photo, click "Find support or report photo."
Click on the 3 dots "…" to the right of the photo or video.
Click "Find Support or Report Photo" for photos or "Report Video" for videos.
Select the option that best describes the issue and follow the on-screen instructions.
It is best to make a report to Facebook from a computer instead of a mobile device as it may be easier to submit feedback and follow the on-screen instructions.
Report the Profile & Account Behind the Slandering to Facebook
To report a fake, slanderous, or malicious Facebook profile:
Click the profile in your News Feed (or search for it).
Click the 3 dots "…" to the right of the profile and select, "Find Support or Report Profile."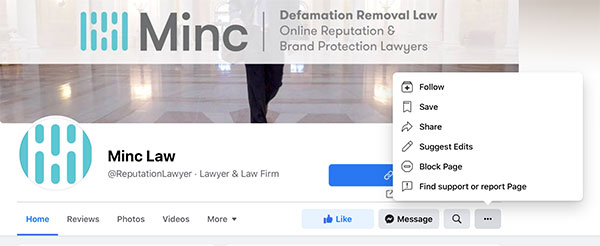 Find the option that best describes how the profile violates Facebook's standards and click, "Next."
You may be asked to submit an additional description, but this is not required for all types of reports. If you are not asked for additional information you can simply click, "Done."
Report the Slander or Libel Via Facebook's Defamation Form
Victims of defamation who reside outside the United States can use Facebook's Defamation Reporting Form to report slander or libel. However, this option is not available to U.S. Facebook users because of Section 230 protections.
U.S. businesses may still have an additional option for dealing with Facebook slander. Businesses who are the target of fake reviews – often bad reviews left by competing businesses (or their employees), there are ways to remove a bad review.
To learn more about dealing with negative Facebook reviews, look into our post, "How to Remove a Bad Review on Facebook."
When Would You Need a Court Order to Remove Slander From Facebook?
If Facebook reviews the flagged content and determines it does not violate their Community Standards, you may need to pursue legal remedies. If you file a defamation lawsuit and obtain a court order, Facebook may remove the slanderous content.
In general, it is best only to pursue a court order to remove content when you have already tried simpler options like flagging the content.
Obtaining a Court Order to Remove Slander on Facebook
People frequently ask whether you can sue for slander and libel located on Facebook.
The simple answer is yes, you can.
However, lawsuits are rarely simple. It is wise to try other legal methods first and follow up with a lawsuit only as a last resort. In the next few sections, we will explain each of the legal steps you can take to respond to Facebook Slander.
How Effectively Does Legal Action Resolve Facebook Slander?
Legal action can send a message that you take the online defamation seriously and are prepared to go to court if necessary.
Legal action can be particularly effective in situations where the slander is ongoing – because a court can order injunctive relief. Oftentimes, a court order may be the only way to get a harasser to stop their behavior and remove defamatory posts.
What Legal Steps Can You Take if Someone Slanders You on Facebook
From a legal standpoint, your two primary options for dealing with Facebook slander are:
Send a demand letter, and
Send a Demand Letter
A demand letter is a formal way of requesting that slanderous or libelous content be removed (and ended). It also provides an opportunity to outline how or why the content is defamatory. In some situations, a well-drafted demand letter is all it takes to stop defamation. However, if the defamer refuses to respond or comply, you can still follow up by filing a defamation lawsuit.
A demand letter can be used to put the defamer on notice that you intend to file a lawsuit if they do not stop the defamation.
File a Defamation Lawsuit to Obtain a Court Order
Before filing a defamation lawsuit, you will want to ensure you have a valid defamation claim. Then you will want to consider where to file your suit, because you may have jurisdictional options.
Video: How to File a Defamation of Character Lawsuit
Watch
While there are many steps in filing a lawsuit to obtain a court order, here is a quick roadmap of the process:
Identify the defamer (if they are an anonymous poster),
Draft a legal complaint that specifies the defamatory material,
Serve the defendant with a copy of the complaint,
Present evidence to the court that supports your request to remove the content,
Secure a court order that directs Facebook to remove the defamatory content, and
Present the court order to Facebook.
Most U.S. states require victims of defamation to file their suit within one year of when the slanderous or libelous statement was published and/or communicated. Make sure to familiarize yourself with your state's respective defamation statute of limitations so that you do not risk having your suit penalized or dismissed altogether.
Another factor to consider while filing defamation lawsuits are the costs associated with removing the content. While there is no one-size-fits-all answer for determining a defamation lawsuit's total costs, there are several major factors that may impact the required budget to ligate for libel or slander. You can find out more about the potential costs involved in a defamation lawsuit by watching our video below.
Video: How Much Does a Defamation Lawsuit Cost? Cost to Sue for Defamation
Watch
Can You Press Charges For Slander on Facebook?
Thirteen states have criminal defamation laws. In those states, defamers can face criminal charges and consequences including jail, although jail sentences are exceptionally rare for libel charges. If you reside in any of the states with criminal defamation laws, you may be able to report the defamatory statements to your local law enforcement agency if the statements violate the law.
In all other states (and in most defamation situations) criminal charges are not an option. Most jurisdictions do not view defamation as a crime, but a tort – which is a legal term of art for a "civil wrong." Torts can still be addressed in court through private, civil lawsuits.
How a Legal Team Can Help You Fight Slander on Facebook
Why Might a Legal Team Be Needed to Deal With Slander on Facebook
Claims for libel or slander on Facebook are incredibly nuanced and complex (the same goes for Slander on Instagram). If Facebook determines that flagged content does not violate their Community Standards and allows the content to remain online, you may have to pursue legal options.
Obtaining a court order to remove content, for instance, requires the deft touch of an attorney with experience dealing with Facebook and other social media platforms. Once you reach the point of a lawsuit, a single misstep can harm your chances of getting the content removed.
Platforms like Facebook enjoy extensive First Amendment protections, which make these types of cases difficult to navigate without an attorney.
How Can an Internet Defamation Law Firm Help You Fight Facebook Slander
An experienced team of internet defamation lawyers can offer help that may be beyond the capacity of a solo attorney. Complex defamation cases may require a tech-savvy team to help you identify anonymous defamers, implement suppression techniques, and get the content removed (all in one place).
An experienced internet defamation law firm may be able to achieve more in less time since in-house seasoned professionals can help with each aspect of the process.
Even better, a team that works solely within the realm of online defamation is well-versed in the myriad of problems associated with social media slander. They can help you protect, bolster, and fortify your online reputation beyond merely filing a lawsuit.
What Skills & Experience Should You Look For in an Internet Defamation Legal Team
It can be intimidating to find the right lawyer for your needs. When hiring a defamation lawyer, you want to consider their experience dealing with social media defamation (and Facebook specifically).
You also want to make sure you like them, and they are responsive to your needs. Of course, you will want to take into consideration how much their services cost, whether they are affordable, and how they will accept payment.
For ideas on other questions to ask a potential attorney, view our "33 Questions to Ask When Hiring a Lawyer" checklist to help you make the right decision.
Minc Law Can Help Remove Facebook Slander
We can help put an end to Facebook libel and slander (and other social media harassment). We have helped more than 2,500 clients remove over 50,000 pieces of unwanted online content, including Facebook posts, profiles, comments, and reviews.
★★★★★

"Absolutely phenomenal. Michael took care of every single issue of defamation. I was concerned about wording because of the public nature of all parties involved, but Michael had open communication and approval from me all along the way. I will suggest him to absolutely anyone."

KD, June 20, 2022
To find out more about removing and responding to Facebook defamation, contact us for a consultation with an intake specialist by calling (216) 373-7706, speaking with a Chat representative, or filling out our contact form.