First Amendment Protections & Internet Defamation & Libel
On April 4th, 2013, a Michigan state appellate court ruled that stringent First Amendment standards of protection do not typically need to apply to defamation lawsuits that seek to identify anonymous speakers on the Internet, opining:
"The right of free speech is not absolute at all times and under all circumstances. It provides no protection to defamatory statements."
So, what was their reasoning behind such a emphatic and significant decision?
In the 2011 case of Cooley Law School v. Doe 1., the plaintiff, the Thomas M. Cooley Law School, sued several defendants for allegedly defaming and libelling the school through postings to an online blog. The blog labeled the law school as a "scam" and accused the school of committing illegal acts, such as fraud and theft of student tuition money to "become more rich." Subsequently, the law school sued the authors of the blog for defamation, and filed several subpoenas seeking to identify the anonymous authors.
Upon learning about the subpoenas, one of the websites (which was subpoenaed) filed a motion for a protective order to quash the subpoena and stop the identification of the anonymous blogger(s) from being revealed.
When determining whether to grant or deny the protective order, the trial court applied a First Amendment "balancing test," which has since been used by courts in New Jersey and Delaware to decide whether it's appropriate to allow the identity of an online speaker to be revealed.
In this blog post, we're going to take you through the First Amendment test utilized by Michigan courts in cases of anonymous posters and commenters online, along with several other core identification tests employed by U.S. state courts in order to identify anonymous online trolls and posters.
Online Defamation Removal Tip: Think of online defamation similar to a wildfire – the longer it sits and spreads, the more damage it's going to do, to the point where it may ultimately be irreversible. Stay proactive with your online reputation and consider setting up a Google Alerts account in order to be notified anytime your name is mentioned online.
If you've been the victim of online defamation or other malicious online attacks, it's time to reach out to the defamation removal attorneys of Minc Law now!
At Minc Law, we know defamation law, and have secured the effective removal of over 25,000 pieces of defamatory online content over our storied tenure. Furthermore, we've litigated in over 19 states and 3 countries, so we know the ins and outs of U.S. defamation and libel law.
Online defamation and libel is highly nuanced and complex, so it's important to employ a trusted professional, as not only your personal reputation is on the line, but your professional one as well.
Get started today and reach out to use to schedule your free, initial no-obligation defamation consultation by calling us at (216) 373-7706, or by filling out our contact form online.
At Minc Law, we're here to fight for your reputation.
The First Amendment Test For Identifying Anonymous Online Speakers & Posters
First, before getting into the test employed my the Michigan court in Cooley, let's take a quick look at freedom of speech, and some basic principles driving it.
Specifically, the First Amendment of the United States Constitution guarantees that "Congress shall make no law … abridging the freedom of speech…" The Michigan Constitutions also affirms such by providing that "[e]very person may freely speak, write, express and publish his views on all subjects … and no law shall be enacted to restrain or abridge the liberty of speech…" In substance, both provide the same protections, so understand for the purposes of this piece, we will be considering the federal authority when interpreting Michigan's free speech protections and reach.
Additionally, the U.S. Supreme Court has held that our federal constitution protects Internet speech to the same extent as speech over other media persons and organizations, and has also noted that an author's choice to remain anonymous is at the very crux and heart of freedom of speech – which is ultimately guaranteed by the First Amendment.
Now that we have a little background on the various definitions of free speech and a citizen's fundamental right to remain anonymous, let's turn to the First Amendment test employed in Cooley, which considered and modified the following four factors (effectively from Dendrite Int'l, Inc. v. Doe, No.3, which will be addressed below), including:
Whether the Defendant is a person or entity who could actually be sued;
Whether the Plaintiff made a good-faith effort to serve the defendant with process;
Whether the lawsuit could withstand a motion to dismiss; and
Whether there is a reasonable likelihood that discovery would uncover information that would allow service of process.
On appeal, the Michigan state appellate court found that the trial court's use of the First Amendment balancing test was incorrect, and that less protective standards should apply. Furthermore, they noted how Michigan should modify elements 2 and 3 in favor of less strict pleading requirements. The appellate court ultimately found that Michigan state Rules of Civil Procedure regarding discovery were adequate.
Such ruling by the Michigan state appellate court was seen as a major setback for advocates of anonymous online speech.
Michigan Law Fact: Michigan defamation plaintiffs must commence their action for libel or slander within one year of the cause of action accruing, meaning if they fail to do so, they may ultimately be barred altogether from bringing a claim – or have it dismissed later down the line. Familiarizing yourself with your respective state's statute of limitations is critical, otherwise all work done and damage caused could be for nothing.
If you're unfamiliar with your state's statute of limitations or other defamation lawsuit formalities and requirements, we strongly recommend you consult an experienced U.S. defamation attorney. Doing so will not only save you time and hassle, but future headache and pain.
It's time to put an end to the online abuse now!
Call us at (216) 373-7706 to schedule your free, initial no-obligation defamation consultation, or schedule a meeting online.
Standards & Tests Protecting Anonymous Speech in Other States: Dendrite & Cahill
To varying degrees, courts in other states and jurisdictions have also sought to balance a person's right to publish and communicate anonymously against a plaintiff with the necessary information for litigating a defamation claim. In this section, we're going to take a look at two standards/tests which have been employed by two different state courts in order to balance the protection of a defendant's anonymity interest in the context of commercial speech:
The Dendrite Test, &
The Cahill Test.
Let's first start with the New Jersey case of Dendrite Int'l, Inc. v. Doe, No.3, which established the following four pronged test for protecting a defendant's interests and rights in anonymous commercial speech.
Note that these should be a refresher, as we went through these in Section 2 and the Michigan court in Cooley ultimately modified elements 2 and 3.
The Dendrite Test
The Dendrite test – as set forth in Dendrite Int'l, Inc. v. Doe, No.3 – requires a plaintiff show the following four things before identifying an anonymous Internet poster or defendant:
"Show that the defendant is a person or entity who could be sued,
Make a good-faith effort to serve process on the defendant,
Establish that the plaintiff's suit could withstand a motion to dismiss, and
Establish that there is a reasonable likelihood that discovery would lead to identifying information about the defendant that would make service of process possible."
Such purpose and test was established to prevent plaintiffs from trying to intimidate, silence, or harass anonymous critics and persons on the Internet, online bulletin boards, and public forums. Dendrite is significant in the world of online defamation and free speech, as it has created a fundamental framework of guidelines for determining when an anonymous online poster or speaker may be "unmasked."
Dendrite was examined in the next case and second standard we are going to address, the Cahill Test, as set forth by Doe v. Cahill.
The Cahill Test
Doe v. Cahill is a landmark U.S. online defamation and libel case, as it is the first case to address online defamation in the context of criticisms of a public figure.
The Delaware court in Cahill concluded that following Dendrite, it was important for a plaintiff bringing a defamation claim to prove four things before revealing the identity of an anonymous online speaker or publisher:
"That the plaintiff tried to notify the defendant of the action in order to allow the defendant to defend,
That the plaintiff alleged the exact defamatory statements made by the anonymous poster,
That the plaintiff could survive a motion for summary judgment on the prima facie claim, and
That the strength of the prima facie case indicates that the defendant's identity should be disclosed."
However, the court in Cahill only determined elements 1 and 3 to be necessary, as elements 2 and 4 were "subsumed in that state's summary judgment standards," and adopted a summary judgment standard based on such prongs. Such summary judgment standard was concluded to be a sufficient balance between a defendant's right to speak and communicate anonymously on the Internet with a plaintiff's right to protect their reputation.
Cahill has since become the staple of defamation and anonymous Internet speech in the context of political and public figures.
United States Defamation Law Fact: Due to the United States longstanding enforcement and upholding of the Constitution's First Amendment and free speech, it is typically considered a pro-defendant defamation jurisdiction, while other Common Law jurisdictions (such as the United Kingdom, Australia, and Canada), along with European countries are generally considered to be pro-plaintiff defamation jurisdictions.
Defamation Consequences: Combating Online Defamation & Libel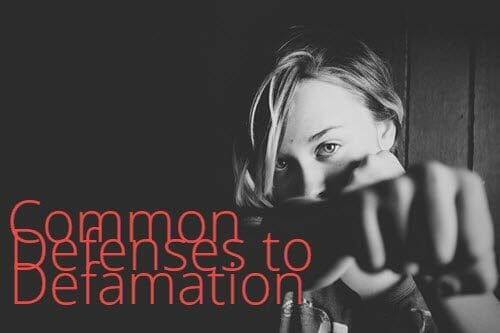 Online defamation stands to not only affect your personal reputation but your professional one as well. Keep in mind that it's extremely important to stay vigilant and proactive about your online presence, as once something is posted and has time to embed itself into the inner fabrics of the Internet, it can be very hard to remove completely.
Below are just several consequences a defamed party's personal and professional reputation may incur as a result of online defamation and libel.
Edit

| Personal | Professional |
| --- | --- |
| Mental anguish, anxiety, depression | Decreasing bottom line |
| Humiliation, insomnia, and other physical side effects | Loss of customers and business |
| Ostracization from the community | Negative media attention |
| Strained, damaged, or severed personal relationships with family, friends, and other loved ones | Loss of partnerships, sponsors, and advertising |
| Denial of certain social opportunities and experiences | Having to close your doors for good |
Finally, if you're curious about combating online defamation without actually hiring a defamation removal attorney, there are several free and simple steps you may take to suppress online defamation in the Internet search results.
Positive content: Google's search algorithm rewards positive and constructive content, so creating a blog or other informational page and frequently updating it is an effective way to push positive content about yourself to the forefront of Google's search results.
Social media: Opening your social media accounts to the rest of the world might seem counterintuitive, but they are at the very heart of today's Internet search results. Making your social media profiles public and openly commenting on positive pages is also a viable way to shake up the search results in your favor.
Linking between profiles: Think of linking between all social media and public online profiles as creating a giant spider web of positive content, which is looked upon favorably by Internet search results.
Responding to criticisms & defamation: This one should be approached with caution, and we generally recommend refraining from doing so. However, if you are an online restaurant or business and have been defamed or criticized openly on a review platform, crafting a well thought-out response is a legitimate method of letting other members of the public know your account of the situation.
U.S. Libel Law Fact: It's extremely important to understand the fundamental difference between libel and slander when bringing a defamation claim, as both come with their respective sets of filing formalities and requirements. For example, most slander claims must be brought within a shorter period of time (statute of limitations) in the United States, due to the fleeting nature of evidence, while libel claims generally benefit from a longer statute of limitations.

Hiring an Attorney to Identifying Anonymous Speakers on the Internet
As the above Michigan court case illustrates, it is becoming increasingly easier day by day to locate and identify anonymous speakers and defamers on the Internet by filing lawsuits and serving websites and ISPs (Internet Service Providers) with subpoenas.
If you or your business have been defamed or attacked online by an anonymous speaker, the Internet removal attorneys of Minc Law are here to assist you in identifying the malicious individual in question, recovering monetary damages, and removing the false speech and defamation from the Internet.
At Minc Law, we've removed over 25,000 pieces of defamatory online content in our tenure and know who to work with in order to secure swift and permanent online defamation takedowns. We've worked tirelessly with countless website administrators, content managers, and third-party arbitration firms, so rest assured, when employing us, you're in good hands. Furthermore, we work based on a flat, reasonable fee, and boast a nearly 100% online defamation removal rate.
What are you waiting for?
Contact us today to schedule your free, initial no-obligation consultation by calling us at (216) 373-7706 or by scheduling a meeting online.
It's time to take back your online reputation.