- Originally Published on February 19, 2021
How to Report Sextortion
Table Of Contents
Need Help? Connect With Us
All Minc Law exploratory calls are confidential, free of charge, and without obligation.
This page has been peer-reviewed, fact-checked, and edited by multiple qualified attorneys and legal professionals to ensure substantive accuracy and coverage. Our publication process is robust, following a 16-step content creation and review process.
Has a stranger on the internet threatened to publish explicit images or other content about you unless you meet their demands? This alarming behavior is a type of extortion known as internet sextortion—and if it has happened to you, your first concern is probably with how to report it.
Follow these tips to report sextortion:
Do not give in to the sextortionist's demands;
Document all communications with the sextortionist;
Contact the Internet Crimes Complaint Center, FBI, INTERPOL, or another national agency;
Contact local law enforcement;
Report the activity to the social media/website administrator;
Retain an experienced internet attorney.
At Minc Law, we have helped thousands of clients stop sensitive media and information from being publicized, put an end to sextortionate threats, identify anonymous internet sextortionists, and cooperate with local law enforcement to hold perpetrators accountable for their behavior, all while preventing these delicate situations from drawing unwanted attention to the case.
The following article provides a list of resources for reporting internet sextortion and finding support in your situation, along with tips for dealing with sextortion in the most effective and painless way possible.
Don't suffer in silence.
With a team of experienced attorneys, we will fight for the closure you deserve. Take back control today.
Contact Minc Law
When to Report Sextortion
In order to know when to report sextortion, you need to be able to recognize it when it appears.
Simply put, sextortion refers to a specific type of sexual exploitation in which a party employs non-physical methods of coercion to extort money, sexual acts, or other goods from an innocent party.
The act of sextortion is made up of two basic components: abuse of power and sexual exploitation. Abuse of power takes place in a relationship that has a one-sided power dynamic. Sexual exploitation is an accompanying threat to release private, personal, or other sensitive materials in exchange for something (i.e., sexual images, videos, or conversations).
Sextortion may also commonly be referred to as:
Webcam blackmail,
Web sextortion,
Online sextortion,
Cyber harassment,
Online extortion, or
Extortion.
What is the Difference Between Extortion & Blackmail?
Extortion and blackmail are similar in concept, but there are differences between the two. Extortion is a form of theft that occurs when an offender obtains money, property, or services from another person through coercion. Coercion is the use of threats (real or implied) of violence or intimidating behavior if the victim does not give the extortionist what they want.
Example of extortion: I will break your legs unless you pay me $1,000.
In contrast, blackmail occurs when the offender threatens to reveal information about a victim or (their family members) that is potentially socially damaging or incriminating unless a demand for money, property, or services is met.
Example of blackmail: I will tell your spouse about our affair unless you pay me $1,000.
Depending on the circumstances, sextortion can fall under the category of extortion or blackmail. When sextortion refers to a form of blackmail, the offender uses personal information (including sexual information) and sexual images to threaten an innocent person into performing sexual favors.
A Common Example of Sextortion: The Story of an Overseas Friend Request
Jack Jones is a married father of two. By all accounts, he is a regular guy with a normal job and a conventional life. Jack enjoys watching Sunday Night Football while scrolling through social media, especially Facebook.
One Sunday, Jack receives a friend request from a woman named Amy, whom he has never met or seen before. Jack and Amy have no mutual friends, but Jack sees no problem with accepting Amy's friend request. Later that night, Jack receives a private message from Amy asking him how he is doing. Jack replies politely, and a flirtatious conversation begins between them.
The messages become more and more sexual as the night goes on. Jack does not want his wife to find out about his conversation with Amy, but he is so excited about the disruption of his monotonous lifestyle that he continues his secret affair.
Things take a more exciting turn when Amy asks if their conversation can move to a different app so that "Facebook does not delete our pictures." Amy asks for Jack's email so that she can find him on Google Hangouts.
Their exchanges continue to escalate on Google Hangouts. Amy begins asking Jack for nude images and videos in exchange for similar content from her. Jack complies, then eagerly waits for images from Amy.
Suddenly, Amy disappears from the chat. She returns after a few minutes with a very aggressive message that Jack has been caught cheating. Her message is accompanied by screenshots of his friends' and family's profiles from Facebook, including Jack's wife.
Amy begins sending Jack non-stop messages stating that she is going to send his intimate images and videos to everyone he knows on social media.
She threatens to send this content in both private messages and on posts to his Facebook wall for the world to see—unless Jack pays her $5,000 via Western Union to an address in the Philippines. If Jack pays what she is asking, Amy promises to delete the content.
Jack begins panicking. He immediately begins researching ways to deal with sexual blackmail, which is when he comes across Minc Law's website.
Sextortion Red Flags to Keep an Eye Out For
An unassuming person can easily be victimized by sextortionists if they are not on the lookout for suspicious behavior. For any individual who is hoping to avoid sextortion scams, it is essential to know which "red flags" to watch out for on social media.
In Jack's case above, the first red flag should have been that Amy was a complete stranger with no mutual friends in common. If you receive a friend request from someone you do not recognize, check their profile.
Does their page seem new or have no content (statuses, posts, shared articles, etc.)? Do they have a "generic" American name, or does their profile photo look poorly photoshopped? These signs could point to the account being fraudulent.
Sextortionists also often try to chat at odd times during the day, due to the fact that they are in another time zone. Most sextortion cases involve Americans being victimized by sextortionists located in Africa or East Asia (especially when it comes to Philippines sextortion).
So, for example, if you are located in New York and your new social media connection is only messaging you late at night, that fact may be a red flag. The individual may be located somewhere like the Philippines, which are 11 hours ahead of New York—meaning they are probably just waking up when it is your bedtime.
Another red flag is that sextortionists will often attempt to move conversations away from social media to a private video chat or messaging app, such as:
WhatsApp,
Google Hangouts,
Skype,
Kik.
Finally, sextortionists will often claim to be unable to video chat, but they will suggest reciprocation of explicit images or video ("I'll show you mine if you show me yours").
For more tips on avoiding sextortion scams online, see our article: How to Avoid Webcam Sextortion Scams During COVID-19
Minc Law Internet Safety Tip: If you are concerned about your privacy online, consider creating a Google number and a throwaway email address for use in interacting with strangers online. If you are tempted to engage with a stranger on social media or a video chat, use this "disposable" contact information so that if the stranger is a scammer, their means to trace your real identity are limited.
What Should You Do if Someone is Blackmailing You With Pictures?
If you are receiving threatening communications from a sextortionist, try not to panic. Use the following steps to deal with the internet sextortion as quickly as possible.
1. Stay Calm
Being attacked and sextorted online can be a nerve-racking experience. It may seem as though you are trapped and condemned to comply with your extortionist's horrible demands—but take a deep breath, step back, and look at the big picture from a different perspective.
More often than not, when an online sextortionist first realizes that you may not comply with their demands, they will respond with aggression and unreasonable threats.
While an extortionist may threaten to "expose" or embarrass you by releasing sensitive information, they are also aware that if they do follow through with their threats, they will probably lose the opportunity to continue extorting you. in the video below, we walk you through the likelihood that a sextortionist will act on their threats.
Video: What Are the Chances a Sextortionist Releases My Intimate Images & Videos?
Watch
Keeping this awareness in mind when reacting to their threats is essential to putting an end to their extortion effectively.
2. Document and Preserve All Evidence
Using your mobile device or computer to take a screenshot of the evidence is usually sufficient enough for either law enforcement agencies or law firms; however, more advanced preservation software such as Visualping or Page Vault is available. These tools can help you monitor, track, and document evidence of online abuse.
In order to effectively confront and stop your extortionist, it would be ideal to know their real name and contact information. However, many sextortionists are experts at using trickery and mind games. If you are not able to find their real contact information, try to preserve as much information as possible, including:
Usernames, email addresses, or other unique account information;
Telephone numbers or addresses provided or used;
All communications including text messages, direct messages, and emails with the date and time of the communication;
All receipts of payments made in relation to the extortion;
The social media profile (if applicable) being used to extort you;
All relevant online posts or comments related to the extortion; and
Any information related to the website or platform on which you are being extorted online.
3. Do NOT Try to Mitigate the Damage
It is natural not to want your significant other, friends, or employer to discover embarrassing or incriminating information about you. Your first instinct might be to take preventative measures before your online extortionist potentially releases embarrassing photographs, videos, or other sensitive information.
This is almost always a mistake. Do not assume that your online extortionist will follow through with their threats.
You may be trying to "control the narrative" of an embarrassing or humiliating situation by mitigating future damages—but if you act too hastily, you may make matters worse by drawing attention to a matter that might otherwise have been resolved in a discreet manner.
4. Do Not Give in to Their Demands
If you are under attack by an online extortionist, remember that they are the ones who are asking for something from you—and you control whether or not you comply with his or her demands.
Whether they are demanding money, intimate photographs, videos, or other services, your extortionist is bargaining with you to get what they want, which means you can take control of the conversation.
Do not assume that giving in to their demands will stop the sextortion. Even if they "promise" that they will stop if you comply with their requests, sextortionists will often come back asking for more payment. Their demands may even increase in frequency and scope.
Unless you plan to cooperate with someone who is extorting you for the foreseeable future, a confrontation is inevitable. The earlier you seek legal help for this confrontation, the better.
Law Enforcement Agencies Who Deal With Sextortion: How to Report Sextortion
If you have fallen victim to sextortionists, it is essential to act quickly. Do not panic, and do not give in to the sextortionist's requests. Instead, use all means possible to report the sextortion to the proper channels and agencies that handle cybercrime and related complaints. These include:
Internet Crimes Complaint Center (IC3),
Your local Federal Bureau of Investigation (FBI) Field Office,
INTERPOL,
National Center For Missing and Exploited Children (NCMEC),
Your local authorities,
Better Business Bureau (BBB).
1. Internet Crimes Complaint Center (IC3)
You can file a complaint with the Internet Crimes Complaint Center (IC3), which is a web-based portal for reporting suspected internet-facilitated criminal activity to the FBI.
The IC3 has been a respected reporting agency to the FBI since 2000, and it has become an excellent option for victims to report complaints of all forms of online fraud—including internet extortion and sextortion.
After a complaint is filed with the IC3, the information is reviewed by an analyst and forwarded to federal, state, local, or international law enforcement or regulatory authorities with jurisdiction, as appropriate.
How to File a Report With the Internet Crimes Complaint Center (IC3)
Step 1: Go to the Internet Crimes Complaint Center homepage.
Step 2: Click "File A Complaint"
Step 3: Click the button next to "Submit an Internet crime complaint with the IC3"
Step 4: Read the terms and conditions and click "I Accept"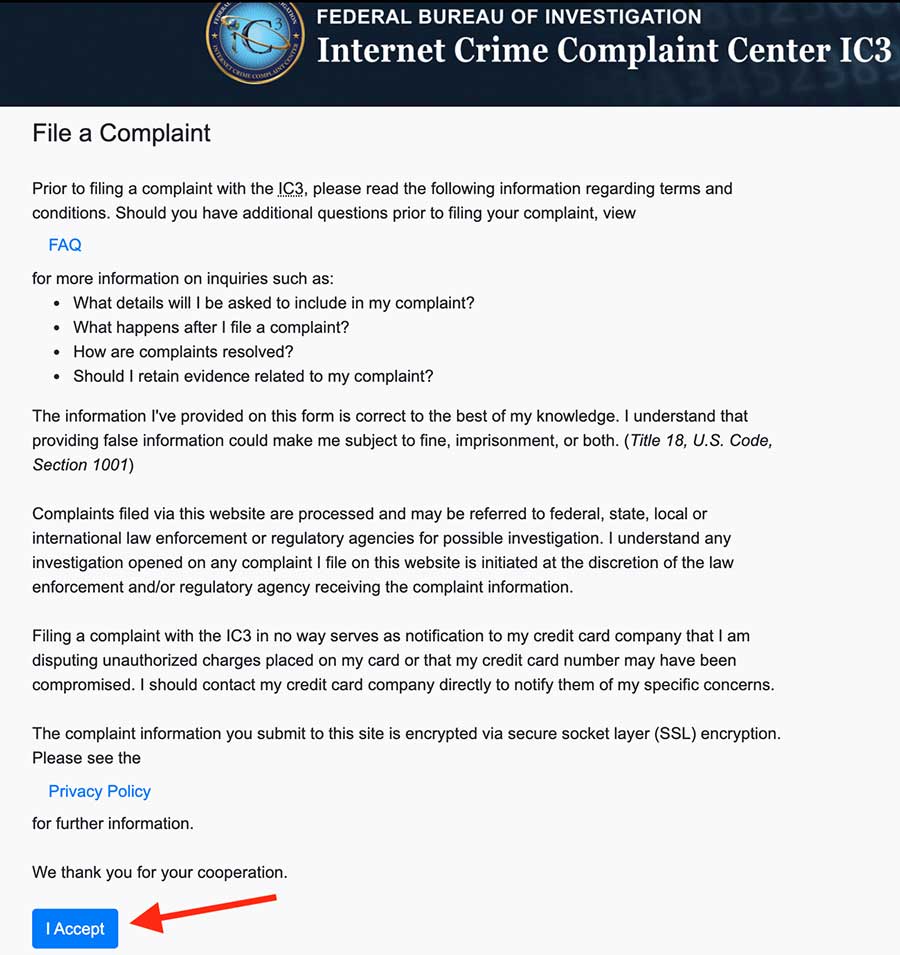 Step 5: Enter your information in the "Victim Information" box.
Step 6: Enter any transactions that have transpired due to blackmail under "Financial Transaction(s). Complete one section for each financial transaction.
Step 7: Provide a description of the incident in as much detail as possible under the "Description of Incident" fields.
Step 8: Enter any details about your extortionist under "Information About the Subject(s) Who Victimized You" box.
Step 9: You may enter any other information that you have about the incident including copies of emails, witness or other victims names, and/or any other law enforcement or government agencies to which you have reported.
Step 10: Confirm whether you are the victim in the incident you are reporting. If not, please provide their contact information if available.
Step 11: Provide your digital signature, complete the CAPTCHA form, and submit your complaint.
2. Contact Your Local Federal Bureau of Investigation (FBI) Field Office
The FBI has 56 offices located in major metropolitan areas across the United States and Puerto Rico. These offices carry out investigations, assess local and regional crime threats, and work closely with law enforcement partners on cases and operations.
Contact your local FBI field office using the contact information found at one of the links below:
3. Report International Sextortion to INTERPOL
The International Criminal Police Organization, commonly known as INTERPOL, is a law enforcement agency that facilitates worldwide police cooperation and crime control.
INTERPOL is currently the world's largest police organization, with seven regional bureaus worldwide and 194 member countries including the United States, Canada, the United Kingdom, Australia, Philippines, Morocco, Nigeria, and France.
If you want to report your unique situation to INTERPOL, you should contact your local and national police authorities, who will then work with INTERPOL's General Secretariat.
4. Contact the National Center For Missing and Exploited Children (NCMEC)
While most victims of sextortion tend to be males between 40 and 70 years old, many sextortionists also prey on the special vulnerability of young children and minors to solicit child pornography, money, or sexual favors through deceit, coercion, and blackmail.
If you or someone you know is a minor who is being sextorted, please contact the National Center for Missing and Exploited Children using the provided information below.
Use the National Center for Missing and Exploited Children (NCMEC) online contact form;
Call 1-800-THE-LOST (1-800-843-5678);
Report child pornography and sexual exploitation online at CyberTipline.org.
If you are the parent of a child or teen who is the victim of sextortion, we recommend checking out our guide on the topic. "What to Do If Your Child is the Target of Sextortion".
Video: What to Do If You or Your Child is a Victim of Sextortion
Watch
5. Contact Your Local Authorities
If you feel that your situation does not warrant a complaint to the FBI, your local authorities may have a cyber crimes unit available to help you.
The easiest method of contacting your local police department is by using a search engine to find the location of the nearest precinct office. Call or visit the precinct in person to deliver your complaint.
For example, if you live in Cleveland, Ohio, you can call (216) 621-1234 to file an online crime report with the local police department.
What Constitutes Sextortion in a Court of Law?
The crime of sextortion involves threatening to disclose sexual information or images of a victim in order to coerce some form of payment from the victim—usually in the form of money, additional material, or sexual favors.
While there are currently no specific federal criminal statutes targeting sextortion, these 31 states have made "sextortion," "online extortion," or "internet blackmail," a criminal or civil offense:
6. Report the Sextortion Scam to the Better Business Bureau (BBB) Scam Tracker
The Better Business Bureau (BBB) Scam Tracker is an online tool that enables consumers and businesses to report scams in an effort to prevent others from falling prey to similar cons.
The tool collects and presents scam data in a searchable "heat map" showing users the number and types of scams and hoaxes reported in their communities. Though the Scam Tracker cannot alert authorities about your specific situation, it can help maximize efforts to educate consumers and stop scammers across the United States and Canada.
How to File a Report With the BBB Scam Tracker
Step 1: Go to the BBB Scam Tracker homepage
Step 2: Click "Report a Scam."
Step 3: Enter information about the sextortionist or scammer in question. Be sure to use as much detail as possible including any phone numbers, email addresses, and known countries.
Step 4: Enter details regarding the scam that transpired. You will be able to include the method of contact, a summary of the incident and any screenshots of communications.
Step 5: Enter information about the person who was scammed. If you are the person the report is about, please enter as much information as you are comfortable sharing.
Step 6: Certify that the report is a truthful account of your experience, complete the CAPTCHA form, and submit your report to the BBB.
Minc Law Tip: Making the decision to approach law enforcement can be a difficult one. If you are in the process of consulting with an internet attorney about your sextortion issue, you may still want to report the sextortion to law enforcement as soon as possible (since at Minc Law, our internet attorneys are not criminal attorneys).
Most Effective Places to Report Sextortion
There are several law enforcement and investigative agencies where you can make a report of online harassment, including sextortion. The top agencies where sextortion victims in the United States, Canada, the United Kingdom, and Australia can file reports include:
FBI Internet Crimes Complaint Center (United States)
National Center for Missing and Exploited Children (United States)
Canadian Centre for Cyber Security (Canada)
National Crime Agency (United Kingdom)
Child Exploitation and Online Protection Centre (United Kingdom)
eSafety Commissioner (Australia)
Reporting Sextortion to Email Service Providers
If you are receiving blackmail threats in the form of emails, it is a good idea to report the offending emails to the service provider where they originated, such as:
Gmail
ProtonMail
Outlook
iCloud Mail
Yahoo! Mail
AOL Mail
If the email is not from a generic domain like the ones listed above, you can try reporting it to the domain host where the email's domain is registered. For instance, if the email comes from "johndoe@johndoe.com," you can go to ICANN Lookup and type in the domain to find out where "johndoe.com" originated.
Scroll down to "Registrar Information," which will usually list the domain host. From there, you can contact the domain host and report the suspicious activity coming from that domain.
Reporting Sextortion to a Website/Social Media Administrator
If the sextortionist contacted you through a website or social media platform, suspend (do not delete) those social media accounts immediately. Then, use the appropriate process to report the matter to the social media platform administrators.
For instance, you can report sextortion on Facebook by clicking the three dots on the upper right corner of any post.
Further Resources For Help & Support When Dealing With Sextortion
Sextortion is a highly personal and sensitive subject for many individuals, and therefore it is understandable to be hesitant about reaching out for help. You may feel embarrassed, scared, or worried about the repercussions of going against your harasser's instructions. Those victims who are under 18 years old may be worried they will be "in trouble" if they report what has happened to them.
Even if you are not ready to report the incident to the FBI or another law enforcement agency, it is important to understand that you are not alone. If you are underage, start by telling an adult you trust and asking for help.
There are many professionals who not only understand what you are going through, but have the knowledge and experience to help you out of your situation. Victims of sextortion can reach out to the following resources:
Attorney General's Cyber Exploitation Task Force
Thinkuknow
Samaritans
Cyber Civil Rights Initiative
Crash Override
HeartMob
Revenge Porn Helpline
Without My Consent (WMC)
PAPYRUS
Get Safe Online
When to Seek Legal Aid Assistance With Sextortion
In most sextortion matters, you should reach out to an internet attorney immediately following a threat of exposure or request for money. Do not wait until it is too late, or after you have spent hundreds (or thousands) of dollars on meeting the criminal's demands.
Many law enforcement agencies are open at all hours of the day or night—and Minc Law also offers after-hours consultations for emergencies just like yours.
What Should You Expect From a Legal Professional Helping You With Sextortion?
When you consult with an experienced internet attorney at Minc Law, expect to begin with a discreet discussion of your goals, legal options, and strategy. You should also anticipate a breakdown of the costs you can expect, along with an explanation of how you will be billed—along with any up-front costs.
Many attorneys simply provide generic legal information during an introductory meeting. At Minc Law, however, we prefer to use our consultations as in-depth strategy sessions. Our attorneys' primary goals are to assess your case's potential and develop an effective legal strategy going forward.
Once you have retained a legal professional to help you with your sextortion case, your extortion lawyer will be able to advise you on the best course of action going forward. If your case involves overseas perpetrators or complicated relationships, for instance, a law firm with experience handling sextortion and reputation management will be able to devise an in-depth and comprehensive legal strategy.
How Can Minc Law Assist You With Your Sextortion Matter?
At Minc Law, we have a nationally-recognized reputation for dealing with extortionists, online harassers, and cyberbullies. Our experienced internet attorneys possess an arsenal of investigatory tools and legal tactics to:
Stop sensitive, private information and media from being publicized;
Put a stop to sextortion threats;
Identify sextortionists and hold them accountable for their actions; and
Monitor the web for future attacks
★★★★★

"They were very understanding. They did not judge me and they were very helpful. It gave me peace of mind to have someone who I could turn too in a stressful situation."

Jordan Fong | January 7, 2022
If you are a victim of a sextortion scam or need to remove sensitive images or videos from the internet, contact the experienced attorneys at Minc Law today by calling us at (216) 373-7706 or by filling out our contact form online. If you are a fit for our sextortion services, we offer paid attorney consultations with one of our sextortion attorneys for a cost of $500.